The small portable lifting gantry crane is a new type of small lifting gantry developed according to the daily production needs of small and medium-sized factories (companies) to handle equipment, warehouse import and export, lifting and maintenance of heavy equipment and material transportation. They are usually used indoors, garages, warehouses, workshops, docks, garages, ports and other places. The biggest advantage of the mobile gantry is that it can be moved in all directions, can be quickly disassembled and installed, and has a small footprint. It can be transferred to another site for installation and use with a miniature car. The width and height can be adjusted in stages, and the steel frame design is reasonable, which can bear the weight from 1Ton, 2Ton, 3Ton, 5Ton, and 10Ton. Especially suitable for the installation, handling and debugging of workshop equipment.
Before choosing a mini gantry crane, many important factors need to be considered, including the required load capacity, service level, mechanical and electrical components, remote/radio control, and key factors and limitations of the facility, including the size of the building, obstacles, Installation, inspection and preventive maintenance. There are adjustable gantry cranes, aluminum gantry cranes, portable mobile gantry cranes, etc. You need to choose a suitable small gantry crane according to the actual situation. Crane manufacturers can customize different products according to the customer's site conditions. Mobile gantry cranes can choose chain hoists or electric hoists, which have strong practicability. It is very popular all over the country and praised by manufacturers.
The width and height of the mini gantry crane can be set by itself, and the steel frame structure is reasonable in design. When installing and disassembling, there are always two places to stand together, and the work is stable, safe and reliable. It is labor-saving and low-cost during installation and disassembly.
The portable gantry crane can be used where there is no other lifting equipment. It is a simple device with a lightweight design that can be easily moved in any direction. It can be easily disassembled and reassembled.
Feature:
Maximum lifting weight 10T, common lifting weight 5T
Maximum span 7m (<125kg)
Kinds of lifting height options
The beam and outriggers can be disassembled for easy transportation
Operation form: wireless remote control or manual
In order to ensure that its function is correct and safe without tilting, it needs a smooth and level ground
With 4 brake casters
Suitable for modern production conveyor lines
Processing customization
Brand: Zoke Crane
Light and small gantry crane(portable lifting gantry):
1. The gantry that moves in all directions on the ground can move on the ground through the brake bearing wheels, which is suitable for lifting objects on the ground;
2. Fix the steel rail on the floor or beam, and realize the mechanization of lifting by electric or manual hoist. It can reduce manpower, reduce production and operating costs, and improve work efficiency.
Portable Mobile Gantry Crane
Portable mobile gantry crane has the characteristics of small size, simple structure, reasonable design, fast lifting speed and long service life. It is suitable for manufacturing molds, auto repair factories, mines, construction sites and occasions where lifting is required. When your business needs to lift or move items frequently, a small crane is suitable.
Our motorized mobile gantry crane is a steel gantry suitable for indoor and outdoor use. It has motorized ground motion capability and can move under load.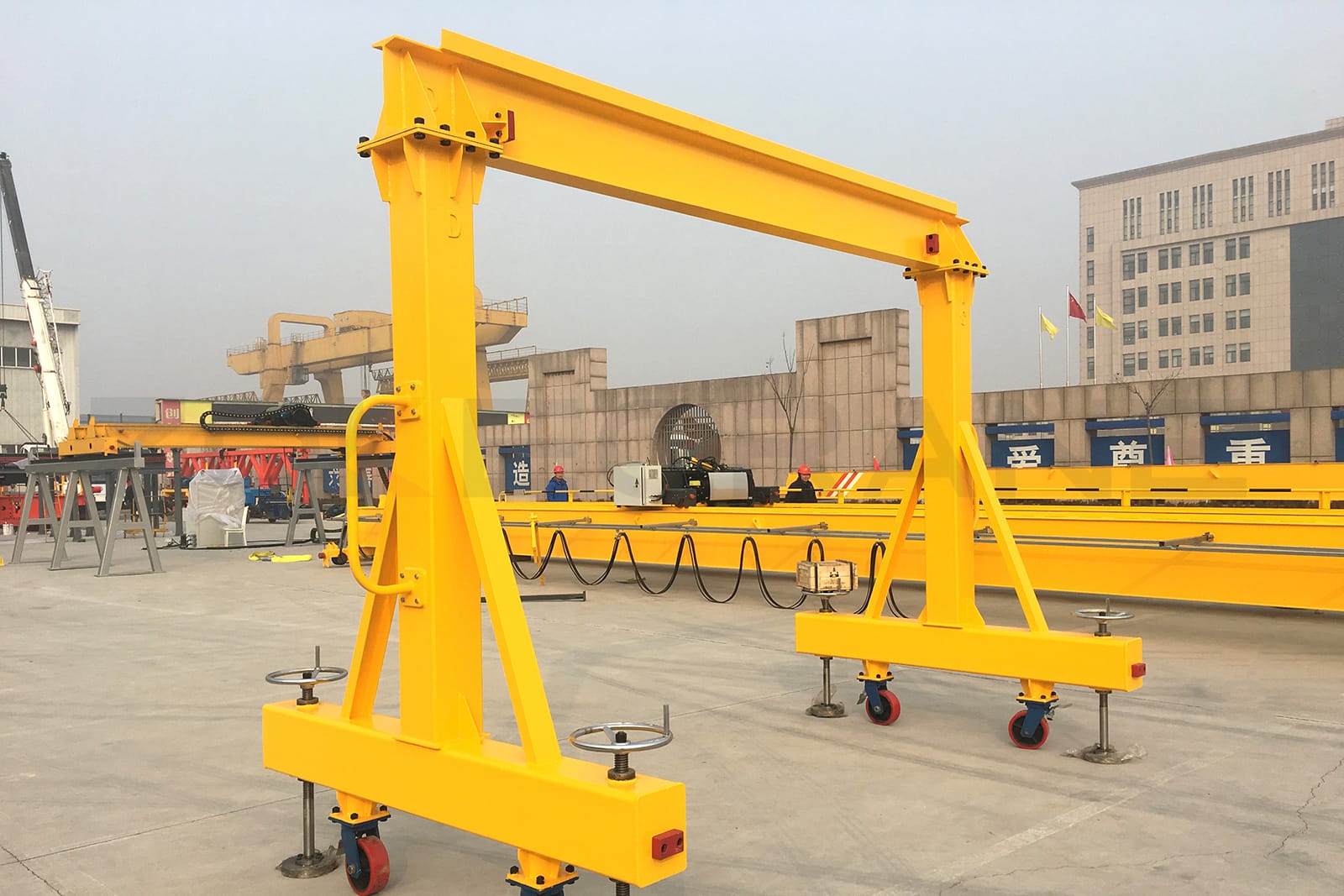 Adjustable Gantry Crane
Adjustable gantry crane can greatly improve production efficiency and help you save costs and time. We have focused on crane design, research, production and sales for more than 15 years. The load capacity of our cranes ranges from 0.5 tons to 5 tons. In addition, the lifting speed, span and lifting speed are all determined according to your actual situation.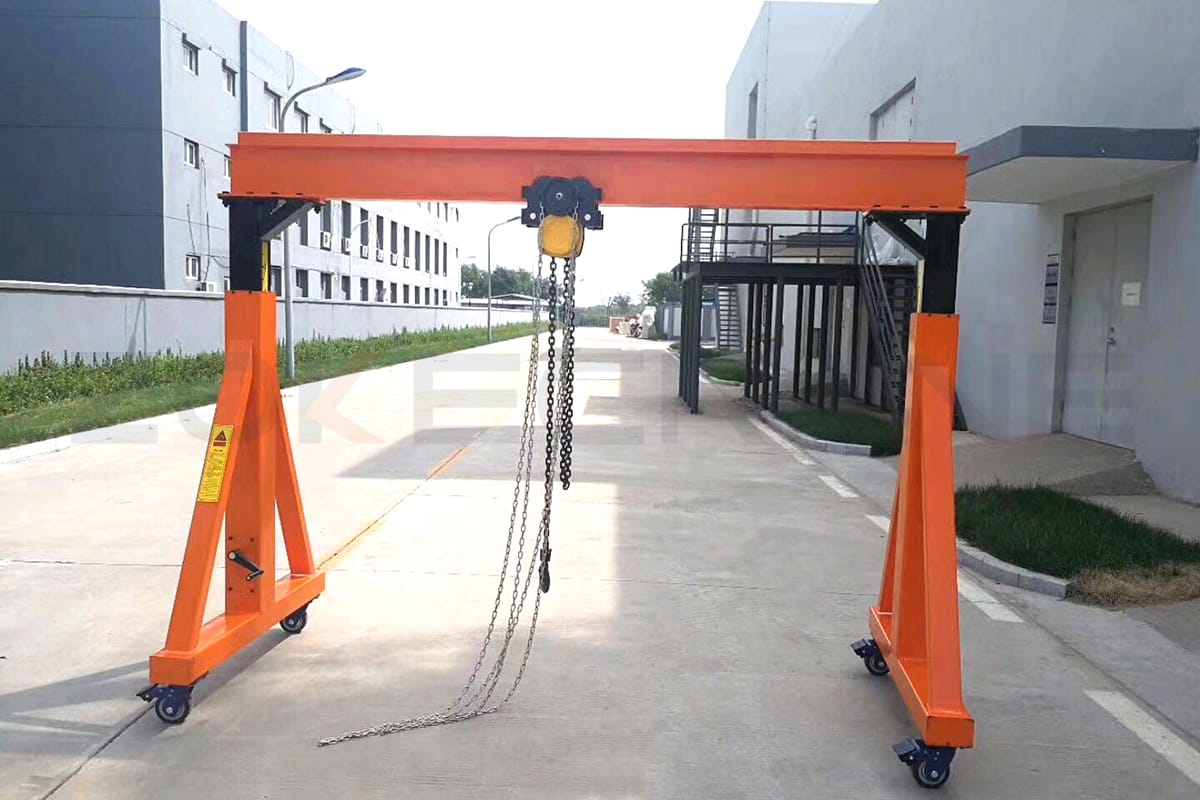 Aluminium Gantry Crane
Aluminium lifting gantry crane is the most commonly used one in our work. Because of its small size, convenience and low price, it has been widely used by many small and medium enterprises.
Aluminium gantry crane are usually 1 ton, 3 ton and 5 ton models, and the lifting tonnage is not too large, so their size is relatively small, which will be more advantageous in use or mobile work.