Jib cranes have a wide range of applications and are used in important industries such as ports, electric power, steel, shipbuilding, petrochemicals, mining, railways, construction, metallurgy and chemicals, automobile manufacturing, plastic machinery, industrial control, highways, bulky transport, pipeline auxiliaries, slope tunnels, shaft management protection, sea rescue, marine engineering, airport construction, bridges, aviation, aerospace, arenas and mechanical equipment for infrastructure projects.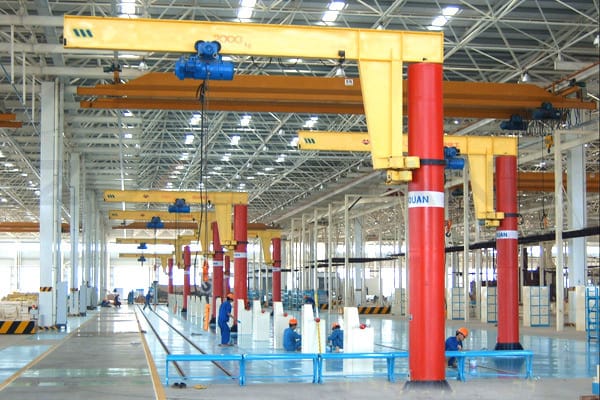 The jib crane consists of a column, a slewing arm, a jib drive and an electric hoist. The base at the lower end of the column is fixed to the concrete foundation by means of foundation bolts. The motor drives the reducer drive unit to make the jib slew and the electric hoist makes a round trip operation on the jib. The jib crane helps you to shorten production preparation and non-productive working time and reduce unnecessary waiting. Modern's jib cranes come in a wide range of sizes and varieties, and whatever your requirements for lifting weight, angle of suspension rotation, jib length and function, all have one common advantage: light deadweight, long jib, high lifting capacity, and simple installation, operation and maintenance. They are completely self-contained, making them an ideal workstation crane and suitable for outdoor yards and loading platforms. The fixed column footprint is small.
The maximum lifting height can be achieved even with very small lifting clearances. The electric jib crane is a new generation of light lifting equipment made to suit modern production, with the highly reliable JPK type electric chain hoist especially suitable for short distances, frequent use, intensive lifting operations, with high efficiency, energy saving, trouble saving, small footprint, easy to operate and maintain. The mobile jib crane is more flexible and adaptable, and is a separate emergency lifting equipment necessary for efficient automatic production lines, with which the production line can be ensured unimpeded. The jib cranes are characterised by their novel structure, freedom of extension and flexure, ease of operation and high efficiency and energy saving. To operate, the load is lifted by pressing the electric button and the bending and overhanging movement of the beam is used to avoid objects in the controlled working area to maximise the working area. Any position in the working area can be reached with a gentle push or pull by hand. 
The jib crane is a light crane, with a hollow steel structure, light weight, large span, large lifting capacity, economic and durable, with a light and fast cantilever rotation in the state of lifting load. The built-in travel mechanism uses a rail pulley device with low friction for fast travel. The cantilever is controlled by a 270 degree turn and can be combined with chain hoists, linear balancers, VPL spreaders and can be supplied with galvanised or baked-on surfaces. According to the different running tracks, the column jib crane can be divided into two types of inboard rail jib crane and outboard rail jib crane. Used with PK type electric chain hoist, it can lift materials quickly and agilely at the workplace. The column jib crane can be installed in any one position and adapted for use on various occasions, making it the ideal choice for plants where it is structurally impossible to fix other conveyors.