The column type electric jib crane consists of: column, rotating arm I-beam track, lifting mechanism, rotating motor and anti-collision device.
The jib crane consists of a column, a slewing arm slewing drive and an electric hoist. The lower end of the column is fixed to the concrete foundation by means of ground bolts (or chemical bolts), the cantilever is driven by a three-in-one maintenance-free drive device and the electric hoist runs in a straight line from left to right on the jib I-beam (H-beam) and lifts heavy loads. The crane jib has a box beam cantilever structure and a section steel cantilever structure. The built-in travel mechanism, with longitudinal travel wheels with rolling bearings, provides low friction and light travel; the small size of the structure is particularly beneficial for increasing the hook travel.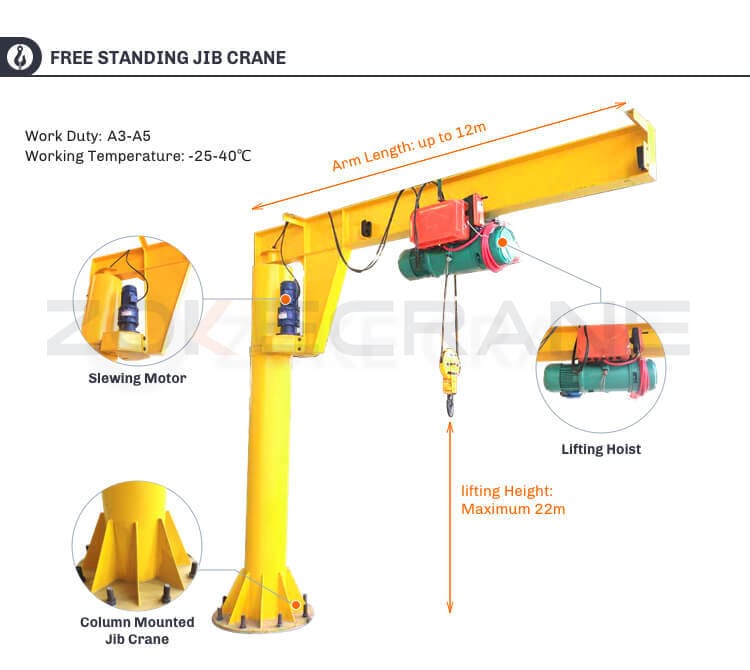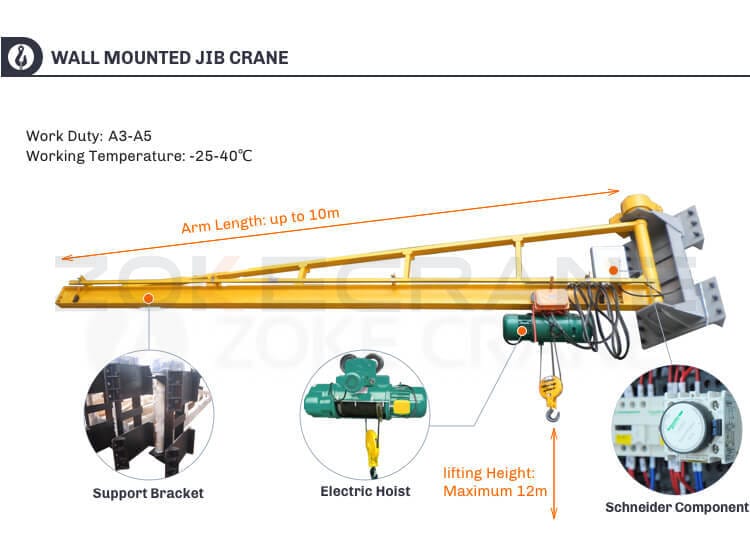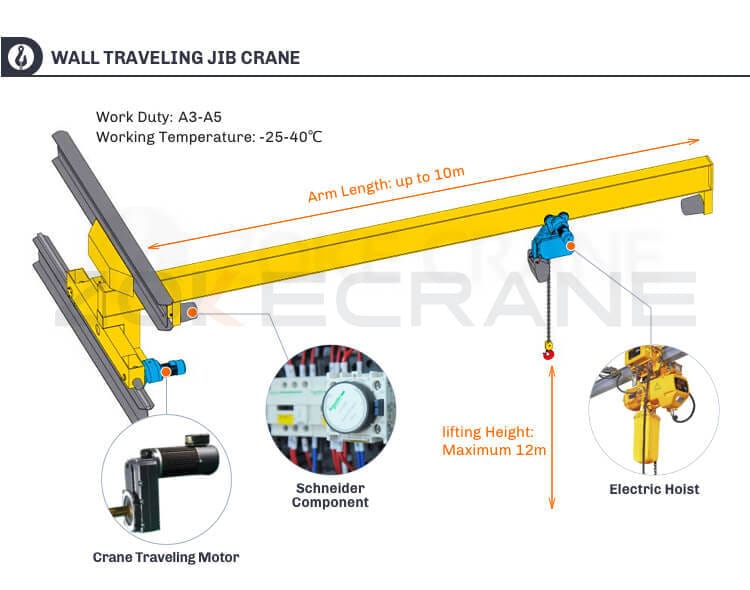 Column section
The jib crane column is selected from 8~10mm thick seamless steel tubes, whose bending stiffness and ultimate impact on the strength of the whole machine is much greater than that of ordinary steel tubes. The jib section is either made of steel sections or box-shaped tubes. Our columns and jibs are subjected to a shot blasting process before welding, which eliminates the internal stress of the steel tubes and profiles, removes surface rust, increases welding strength and increases paint adhesion, a process that cannot be replaced by manual polishing.
Jib section
The cantilever columns and jib that have undergone the shot blasting process described above are both stronger and more colourful in appearance. The strength improvement makes our jib cranes stronger and more durable; the colour enhancement in appearance is also very intuitive and is reflected in the paintwork, which is brighter and more rounded than that of ordinary heavy industry products, and has a stronger adhesion. Companies with high requirements for the factory's appearance, large state-owned enterprises, central enterprises, foreign-funded enterprises and private enterprises have rated us quite highly.
Crane jib is a light weight, large span, large lifting capacity, economic and durable hollow steel structure.
Henan Zoke Crane Co., Ltd. is a professional crane manufacturer.The company has advanced production equipment and strong technical force.Provide product design, manufacturing, sales, installation, maintenance, technical consultation and services.If you have any questions, you can contact us, 24 hours professional customer service online to answer you.