What is a scissor lift platform
Aerial hydraulic lifting platforms have another name, which is scissor type aerial hydraulic lifting platform. Scissor lift platforms are widely used for installation, maintenance and other operations at height, in addition to being used as a conveyor for goods of different heights. Scissor lift platform free lifting characteristics have been widely used in municipal maintenance, dock, logistics centre cargo transportation, construction loading clear, etc., installed with a car chassis, battery car chassis, etc. can walk freely, the working height space has also changed, with light weight, self-propelled, electric start, self-supporting legs, simple operation, large operating surface, can cross the barrier for aerial work, such as 360 degrees of free rotation advantages. As the name suggests, it is a mechanical lifting platform, but has the appearance of a scissor fork. This is what makes it unique. For example, the lifting capacity is stable, the load-bearing capacity is large, there is a wide range of work at height and it can be operated by many people at the same time. These advantages give it a broad application prospect and market.
Scissor lift platforms are widely used in urban construction, transport and civil engineering. This makes working in the air safer and easier. However, one thing to keep in mind is to do a good job of checking the scissor lift platform before use, testing it during use and some maintenance work after use.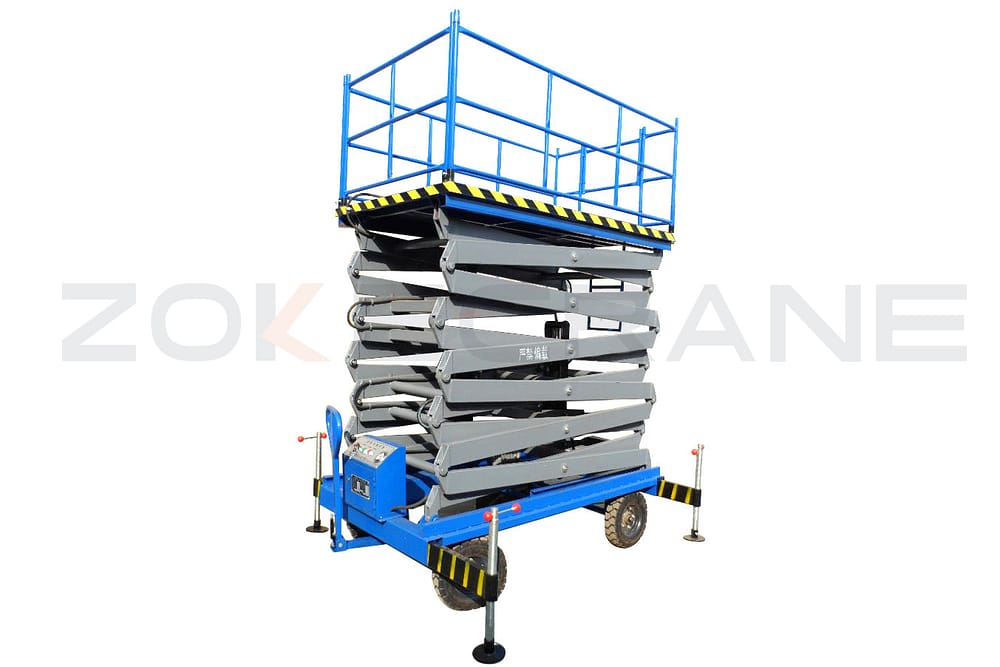 Why use a scissor lift platform
As the number of super-tall buildings increases, the need for high-speed, efficient lift construction sites is beginning to be on the agenda.
In our lives we use lifts in many business buildings, lifts are much the same as lifts, we can also set up lifts for our own needs when we use them. As our productivity continues to increase, life continues to improve, the demand for lifts is increasing, and the application of lifts in every corner of life will bring us objective benefits.
The use of scissor lifts in our production has become very common and has an important role in our production, especially in the operation of goods at height. Now the economy is constantly developing, in line with the needs of society, productivity is increasing, and now there are more aerial operations, so scissor lifts have an important role to play in our aerial operations, and can provide us with a safe and stable platform. We can give our safety when we work at height.
Scissor lifts not only have an important role in production, but their application in our lives is also very important and very popular. In hotels, guesthouses, cinemas and other public leisure and entertainment places we know that cleanliness and comfort come first, so keeping it clean is a must for us. Scissor lifts are very important here for cleaning, repairing and replacing lamps and lanterns, and commissioning and installing and maintaining equipment.
The advantages of scissor lift platforms are mainly
1. the ability to fold easily, taking up less space.
2. stable lifting of the folding structure, which is smoother in the lifting process.
3. The scissor structure is sturdy, with a small gap, and the rising process replenishes the shaking.