Overview of Sheaves Sets
It is a fixed sheave that works in conjunction with the hook set, fixed to the structure, and consists of a combination of several fixed and dynamic pulleys, which can both save force and change the direction of force action.
Classification of sheaves
Sheaves, which can be divided into working and balancing pulleys, are commonly used machines that can rotate around a central axis.
Materials for sheaves
The material of the sheaves is generally HT15-33 cast iron, for grabs and special purpose cranes often ZG35II cast steel is used. In order to increase the efficiency of the sheave set and improve the use conditions, the bearings of the sheaves all use rolling bearings.
Sheave rope groove
When choosing a sheave rope groove, the rope groove radius is often taken as R = 0.6d, requiring the contact surface between the wire rope and the rope groove to be as large as possible.
Sheave set applications
Sheave sets are widely used in cranes, winches, hoists and other machinery, and are an important part of lifting machinery.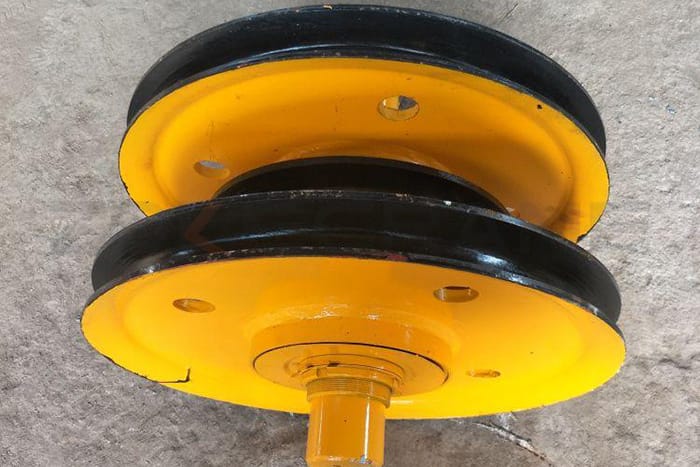 The role of the sheave in the crane is simple, it is used to thread the wire rope, so there are fixed sheave and dynamic sheave. The dynamic sheave is mounted on the mandrel of the crane which can be moved up and down, usually together with the fixed sheave to form a sheave set to achieve the purpose of saving energy. Not only that, it also enables the high speed rotation of the motor in the crane to match the speed of the mandrel.
If the manufacturing process is used as the basis for classification, there are mainly cast iron sheaves, cast steel sheaves, welded sheaves, nylon sheaves and other different products, each of which has its own advantages and disadvantages, and must be selected according to the actual requirements. At present, nylon sheaves and aluminium alloy sheaves are more commonly used on cranes.