Wall cantilever jib cranes are a kind of wall-mounted lifting equipment with a unique, safe and reliable structure, featuring high efficiency, energy saving, time saving and flexibility, and are widely used in production workshops.
Wall cantilever jib cranes belong to small and medium-sized transfer equipment, unique structure, safe and reliable, with high efficiency, energy saving, time and energy saving, flexible and other characteristics, can be operated at will in three-dimensional space, in the short distance, intensive transfer occasions, than other conventional lifting equipment to show its superiority, widely used in different places of various industries. With economic development, the manufacturing industry continues to grow and develop, making the demand for production and manufacturing equipment is increasing, in the production process of these devices are required to use light and fast lifting equipment, and wall jib cranes are designed and developed to meet this production demand, so wall cranes have the actual engineering needs, its structure with the actual changes in production also need to be constantly optimized. Do further improvements to make it more adaptable to production needs, more convenient and faster, more economical.
Usually a wall cantilever jib crane is a combination of a lifting mechanism (to move the weight up and down), a luffing mechanism and a slewing mechanism (to move the item in the horizontal plane), plus a metal mechanism, a power unit, a steering control and the necessary auxiliary devices.
Wall cantilever cantilever jib cranes are also known as wall-mounted jib cranes. It can be divided into: BX wall cantilever jib crane, JB-WNN-D wall cantilever jib crane, wall cantilever jib crane is used near the wall cantilever and lifting work more frequent places, in close proximity to the wall cantilever to serve a semi-circular space, is a circular, intermittent action, short-range handling materials machinery. wall cantilever jib cranes are used to lift small and light loads and are a very economical lifting device that can be used along walls or factory structures to maximise the working area for hoist use or as an effective complement to overhead cranes and monorail systems.
There are roughly two types of wall cantilever jib crane structures, one with diagonal tie bars as in figure (b) and one without diagonal tie bars as in figure (a). The two types of structure have their own advantages and disadvantages. For the structure in figure (b), compared to figure (a), the stability is better and the overall deformation is smaller because the main beam, the tie rod and the wall cantilever part form a triangular structure. And the structure in figure (a) can reduce the use of materials because there are fewer parts such as tie rods. In the design of the crane structure if the structural form in figure (a) can achieve the stability and deformation requirements, then priority can be given to reduce the use of materials.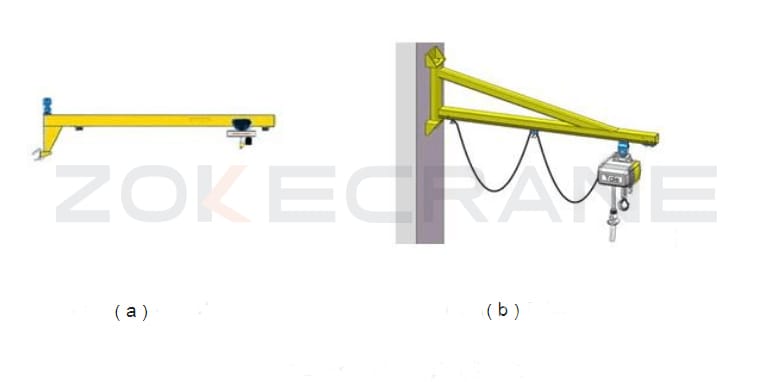 JB-WNN-D wall cantilever jib crane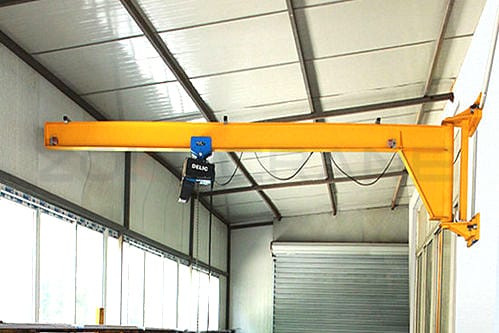 The JB-WNN-D wall cantilever crane with low headroom allows a large lifting height and can be used in situations where reinforced concrete walls and columns are present, the lifting height can be arbitrarily determined according to the required lifting height. The cantilever crane can be fixed very easily by means of a pair of screw checks or clamping hoops.
Main features:
1.Maximum lifting capacity 3000kg.
2.Maximum cantilever length 10m (<1000kg).
3.Maximum rotation angle 180°.
4.The cantilever is made of H-beam, low headroom design.
5.Optional electric running and electric rotating mechanism.
6.Fixed to the wall or factory column, does not occupy any floor space.

BX wall cantilever jib crane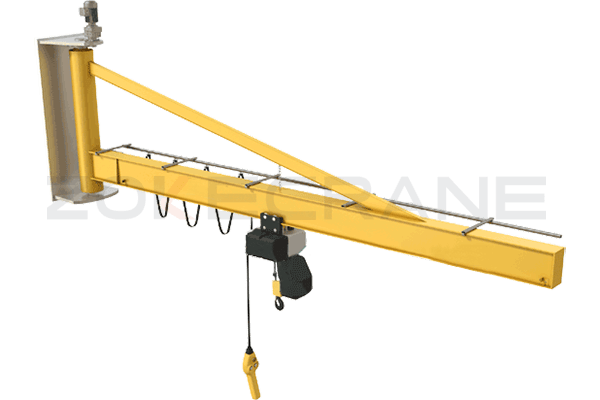 Product Description:The BX wall cantilever crane is another breakthrough in the cantilever crane series, using bolted angle iron couplings to fix the triangular bracket to the concrete wall or column, the jib is twisted to the bracket, with simple structure, easy operation and large working space. The swing arm can be fitted with an electric or manual hoist to lift heavy loads. The electric hoist or hand chain hoist runs in a straight line on the swing arm I-beam and lifts the weight, and the swing is achieved by human power pushing the suspended weight or the self-provided pull ring. Suitable for warehouses, docks, goods for short distance handling loading and unloading, for the steel structure plant or production line to provide the ideal lifting machinery, the use of safe and reliable, flexible rotation, thereby reducing the work intensity of workers, improve productivity.
1.Lifting capacity:0.5t-1t
2.Turning radius:2.5m-4.5m