Overhead crane is a modern industrial production and lifting transport to achieve mechanization of the production process, automation of important tools and equipment. So the bridge crane in indoor and outdoor industrial and mining enterprises, iron and steel chemical industry, railroad transportation, port terminals and logistics turnover and other departments and places are widely used. With the change of application occasions, its electrification system has a variety of forms.
The electrification system is one of the most important elements of a crane and hoisting system. The electrification system at a minimum will provide a single or three-phase power supply required by the traveling crane and hoist equipment, but may also carry control signals that operate contactors, limit switches, and other functions. With the many different types and brands of electrification being available, it can be difficult for a user to determine which electrification system is best is a specific application.
Overhead Crane Power Rails or Monorail Electrification
The overhead crane power rails or monorail electrification systems consists of rigid construction conductor bars, cable festoon system, cable reel, or energy chain that are mounted on the runway and deliver the mainline power along the length of the runway or monorail track.
Conductor Bar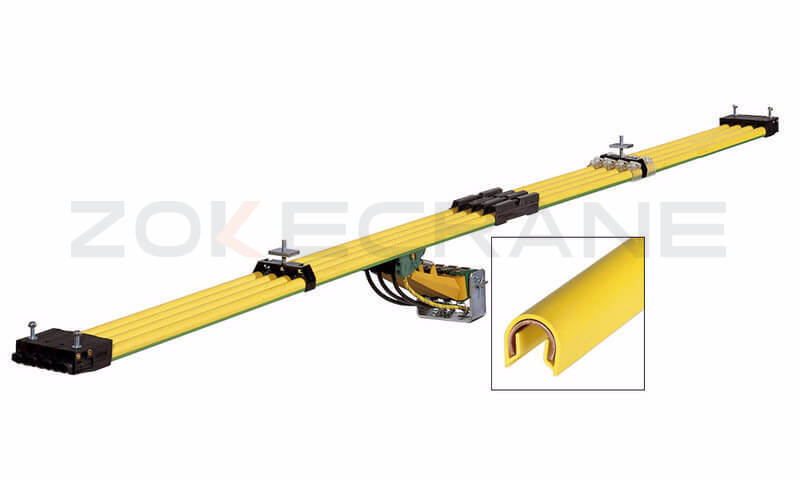 Conductor bars (also referred to as power bars, figure eight bars or hot bars) are one of the most common methods of electrification system and power rails to a crane and hoist.Conductor bars consist of a rigid conductor bar constructed from formed galvanized steel, copper, or stainless steel depending on the application and amperage requirement. The conductor bar is generally covered with a nonconductive plastic cover on three sides with an opening for the collector shoe that carries the power from the mainline to the bridge or trolley. The conductor bar is generally suspended on the runway structure or bridge from brackets, but there are also conductor bars styles that can be mounted flush to the web of the runway or bridge beam. Conductor bar arrangements for three-phase power consist of 3 individual conductors for phased power and one for a ground. The ground bar must be installed with a different color cover, (generally green) than the power conductors.
When conductor bar is used in longer systems, expansion assemblies must be used to keep the bar straight when temperature changes dramatically and multiple power feeds may be required to reduce amperage drop. The main areas of maintenance on conductor bar systems are the collector assemblies and shoes as they are the normal wear and tear item.
Advantages:
No length restrictions
Runway systems can be extended easier
Low cost in standard applications
Easy to install
Low maintenance
Can be used on runways with more than one bridge operating on them
Disadvantages:
The collector shoes can wear out quickly
The opening at the bottom allows for a potential shock hazard
Cannot be used in an explosive environment
Festoon System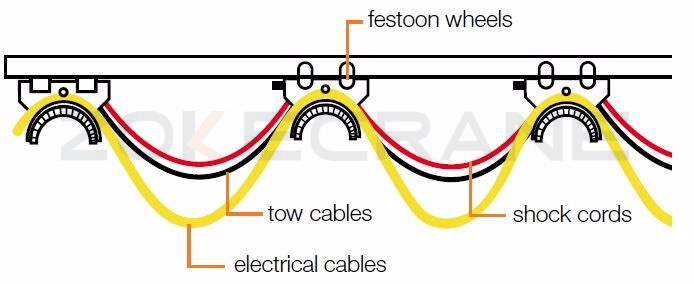 A festoon electrification system utilizes flat or round cable on a trolley traveling on a C track, square rail, or an I-beam. This method of overhead crane power rail provides direct contact, which provides greater resistance to wear on the system's components. Generally, the festoon cables are flat cables with multiple conductors to match the number of conductors required of the application. Multiple cables are stacked so that power and control currents do not run in the same cable jacket. The limitation to the ultimate length of a festoon system is the loop depth used, required wire size, and space limitation of the festoon trolley stack-up on the fixed end. Festoon systems are economical, can be very heavy duty, and are ideal for carrying many control signals at the same time.
Festoons are the standard electrification system used across the girder of a bridge crane and are often used for monorails and jib crane applications. Festoon systems are a good solution for power rail in hazardous environments where open conductors are not an option.
Festoon electrification systems are most commonly found on bridge cranes, but can also be used on other types of overhead cranes like gantry cranes, some forms of monorail cranes, and jib cranes. However, some types of festoon track may not be recommended for monorail setups where there may be curves in the rail.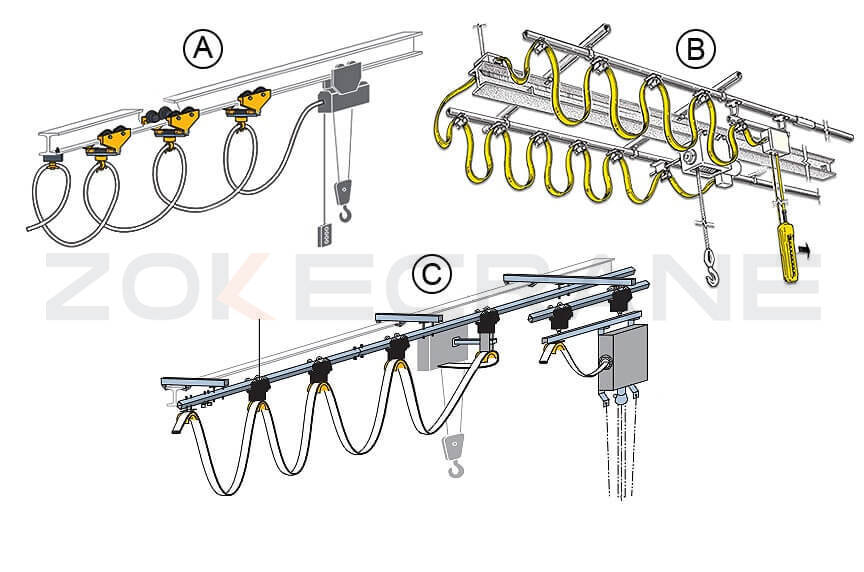 A. I-Beam Cable Festoon Systems
Ideal for medium to high-duty applications and environments. Different carriers available from basic economic versions to custom-design. Ease of maintenance and high-reliability in any operating environment. Pre-assembled systems are available for easier installation.
Can be configured in a basic economical design or totally customized for specialized systems.
Built for demanding environments like steel mills, plants, and ship to shore cranes. They are simple to install and low-maintenance.
B. Track-Mounted Cable Festoon Systems
Effective cable management in light to medium-duty applications. Track-mounted systems allow you to organize and move cables and/or hoses for power and control circuits. These systems are reliable, efficient, easy to install, and have low maintenance requirements.
Track material can be made out of galvanized, stainless, or sometimes PVC materials for corrosive environments.
Can be run indoors or outdoors in dusty, dirty, or corrosive environments, in high-temperature environments, and can be used for applications that require an explosion proof design.
C. Square Rail Festoon Systems
Runs on a square or diamond-shaped track. This type of track is especially useful in dirty or dusty environments, can be used indoors or outdoors, and will work for applications that require an explosion proof design.
Perfect for monorail cranes as it can be configured to work in a straight, curved, or circular track design.
Advantages:
Relative low cost
Easy to install
Easy to maintain
Use in corrosive and explosion proof applications
Disadvantage:
not ideal for use on runways that have multiple bridges
Ultimate length is limited by wire size and festoon stack-up capability
Environmental considerations need to be taken into account to select the right material for the cable and cable sheath
Cable Reel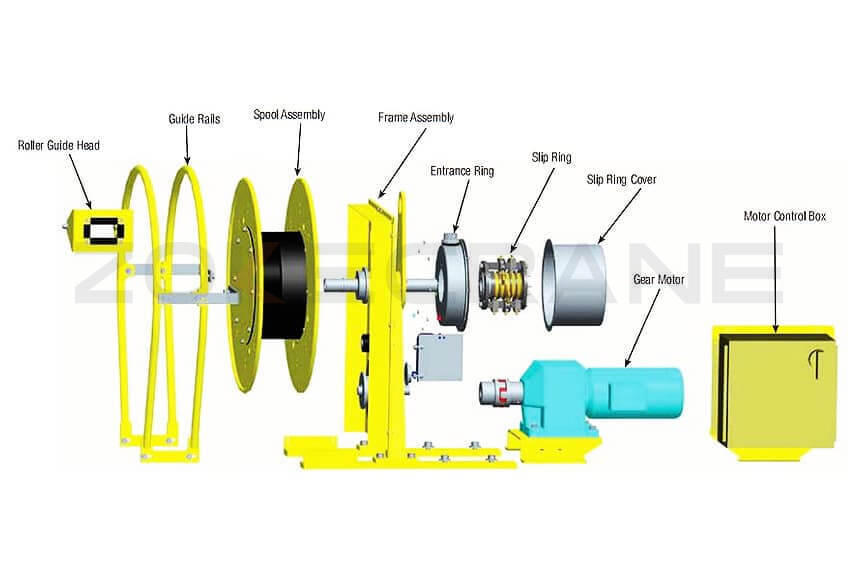 A cable reel is essentially an electrical cord that pays-out and retracts into a spring-loaded reel. They can be used for shorter power and control applications when the use of a festoon system is precluded due to potential interferences with the equipment by the cable loops or rigid supporting c track of a festoon system. Cable reels may also be the best option where open conductors are not allowed, and the hoist trolley travels around a short monorail system with curves and switches provided that the cord has free access to travel with the hoist without encountering obstructions.
Cable reels utilize a very simple design that automatically winds and stores flexible cables. Cable reel electrification requires little to no maintenance and is easy to install. They can also be mounted stationary, or on a swivel base to allow the cable to payout in multiple angles and directions.
Advantages:
Can be used in horizontal and vertical applications to provide both power and control to cranes, hoists, and devices suspended on the hoist hook
Totally closed conductor limiting risk of shock
Hazardous or wet environments
Disadvantages:
Limited travel length
Maintenance issues with the high use
Relative high cost per vs festoon and conductor bar
Energy chain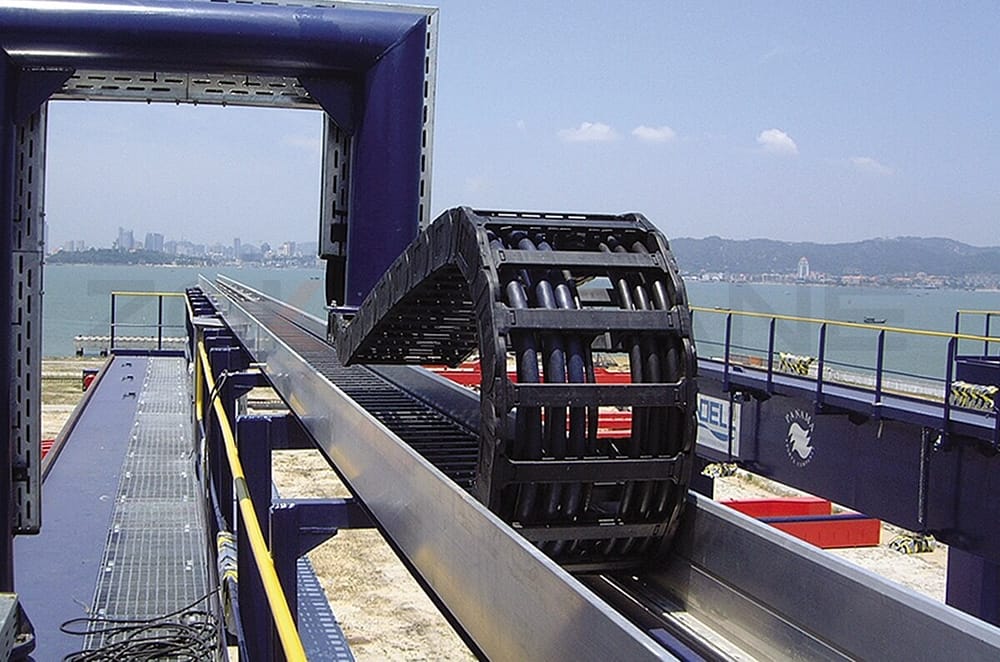 The energy chain is designed for crane electrification and overhead crane power rails optimal efficiency. Cables are securely guided in the system with interior separators, so cables can never cross over one another and become tangled. For strain relief, cables are tightly clamped and can be easily and individually released for repair or replacement. While in festoons an entire composite cable may need to be replaced if one conductor is damaged, with energy chains, only the one damaged cable would have to be swapped. Since the energy chain does not require a loop parking station, a center mounted energy chain system requires approximately 50 percent less cable than a festoon system. This considerably reduces mechanical stress, system weight and acquisition costs. With no hanging loops, the required operating window is also considerably less than festoon systems, noteworthy for applications with restricted space.
An energy chain powers overhead cranes, during the harshest environmental conditions, with no damage to cables.
Installation is truly simplified with the energy chain; a guide trough is installed on the crane girder, and the energy chain is populated with cables and then installed into the trough. The moving end is attached to the trolley and the cables are routed to their connection points. energy chains can be pre-populated with cables by the energy chain manufacturer, making installation even more straightforward. Horizontal, vertical, rotary and three-dimensional movements can also be achieved. While festoon wheels, shock cords and bearings are marked for wear and require replacement or lubrication, the chains are maintenance-free, only needing basic visual inspections to ensure the system is in good working order.
The energy chain is engineered to protect cables from debris and extreme weather conditions. Due to the clean and durable design, the energy chain is proven to withstand the most demanding environments.Wind is no match for the system, as cables are securely guided and cannot get caught at any point. The predefined bending radius also prevents the cables from being bent below the manufacturer's recommended bend radius, which sometimes occurs with free-hanging festoons. For additional protection, the chains are available with integrated rollers for extremely long travel distances, as well as special materials for chemical resistance. The rugged energy chain can be configured in many different ways, from use on hoist trolleys at high speeds to managing long runway travels with special requirements. This modularity can be applied to a wide variety of applications, including both outdoor gantry cranes and indoor bridge cranes.
Advantages:
Easy to install
Virtually maintenance free
Corrosion and wear resistant features
Disadvantage:
High cost
Push-button control cranes are not recommended
If you are considering a new crane system, or are looking to upgrade or replace an existing conductor system on your crane or runway; contact one of our experts at ZOKE CRANE for helpful advice and competitive pricing on both materials and installation.