Warehouse is an important place to store goods, but also the main place for the turnover of goods, warehouse loading and unloading is very frequent, relying on manpower alone is inefficient and long, so the warehouse operations have some operating equipment to assist.Warehouse crane is used to load, unload and transport materials in the warehouse. This overhead crane is especially popular in the manufacturing industry as it can replace human power to carry heavy loads. With this equipment, the lifting of goods through the entire area of the warehouse can be achieved.
Warehouse Crane System
The warehouse crane system mainly consists of three running mechanisms, that is, lifting mechanism, crane running mechanism and trolley running mechanism, of which the lifting mechanism is mainly composed of electric hoist, wire rope, pulley, hook or other spreader.
Which warehouse crane do you need, warehouse overhead crane, warehouse gantry crane, warehouse hoist jib cane? Custom warehouse crane system is designed for specific requirements.
Warehouse overhead crane: double girder overhead crane, single girder overhead crane, etc.
Warehouse gantry crane: semi gantry crane, single girder gantry crane, double girder gantry crane, etc.
Warehouse hoist: electric hoist, wire rope hoist, electric chain hoist, etc.
ZOKE warehouse crane and warehouse hoist can be used for different lifting work requires, with lifting capacity from 1ton, 3ton, 5ton, 10ton and up to 100ton.
Features of Warehouse Crane
Strong rigidity, Light dead weight, Outstanding structure design enable ZOKE warehouse crane with durable quality and long service life.
Compact overall size, Low clearance height, Small wheel load makes ZOKE warehouse crane can save factory space and investment cost
Advanced technology and excellent professional knowledge makes ZOKE warehouse crane outstanding in the same kinds of hoisting products.
Perfect after-sale service and Rich expertise guidance free you from material handling troubles.
Competitive price and excellent quality makes ZOKE warehouse crane your optimal choice.
There are two distinct control forms supplied for the Warehouse crane , one is ground control with a rope handle, another is the remote control. A customized warehouse crane also would be produced by our company on the basis of clear requirements.
How to Choose a Proper Warehouse Crane
The overhead lifting equipment is crucial for the efficient operation of the warehouse, so choosing a proper crane is of supreme importance. The problem is how to choose the right crane suitable for your need. One of the most important things is that you should consider your specific need carefully and clearly. Here are some considerations including but not limited to:
The materials you are going to handle and the specification required for your overhead crane such as the lifting capacity, lifting height and span of the crane.
Suitable types of warehouse cranes:warehouse overhead crane,warehouse gantry crane,warehouse hoist
The frequency of the crane use. Some cranes are light duty and cannot be used in a busy and frequent working environment, while others are heavy duty and can do the heavy work constantly. Thus you should determine how often you use the equipment.
The cost you are intended to pay for a crane. How many budget you allocate to purchase a warehouse crane? Which type do you prefer to choose? We can provide the best crane solution within your budget.
The way you decide to operate the overhead crane. Generally there are three methods, pendant control, remote control and cab operation. You can choose one of them or two combinations on the basis of your requirement.
We suggest you think about these factors carefully, and then we will help you select the most suitable solution for the warehouse crane. In addition, we provide customized overhead lifting equipment.
Warehouse overhead crane
Warehouse overhead crane is regarded as the most widely used lifting device in the warehouse, and it has the ability to do a lot of large and heavy work which the manpower cannot. Therefore, users can benefit a lot from using this warehouse crane.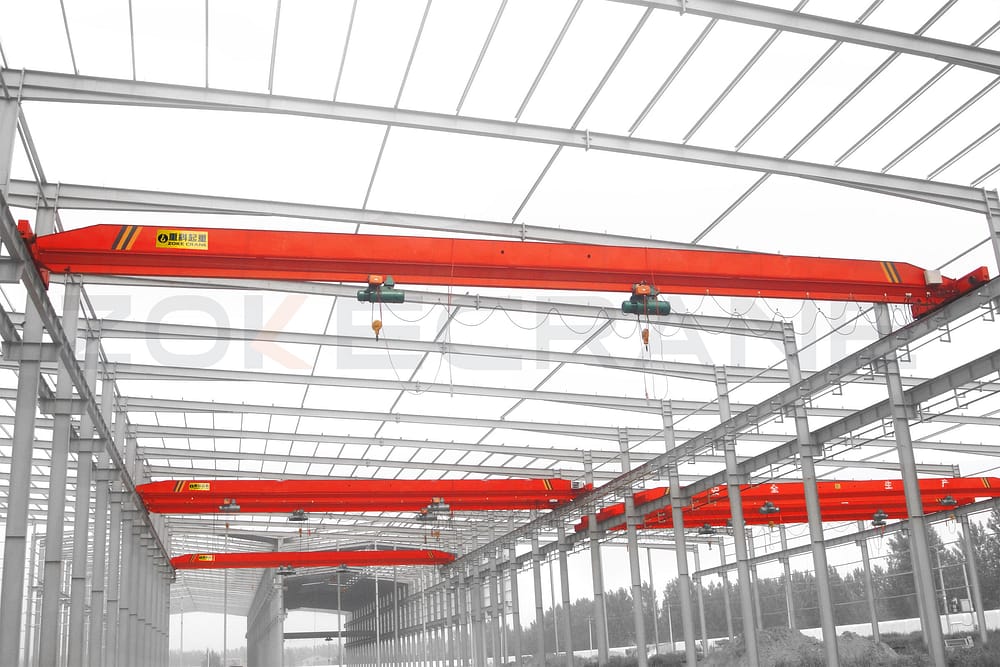 Single Girder Warehouse Overhead Cranes
Electric single girder warehouse overhead crane is common lifting equipment with the tonnage of 0.5~20t, which consists of single girder beam, monorail hoist, end carriage with motor and total panels.
It can be installed on the steel columns. Therefore, it is widely used in factory, mine, port, warehouse, and other material handling places to improve the efficiency of labor and improve the necessary machinery working conditions. As it will be installed on the upper of the factory, have maximum space utilization.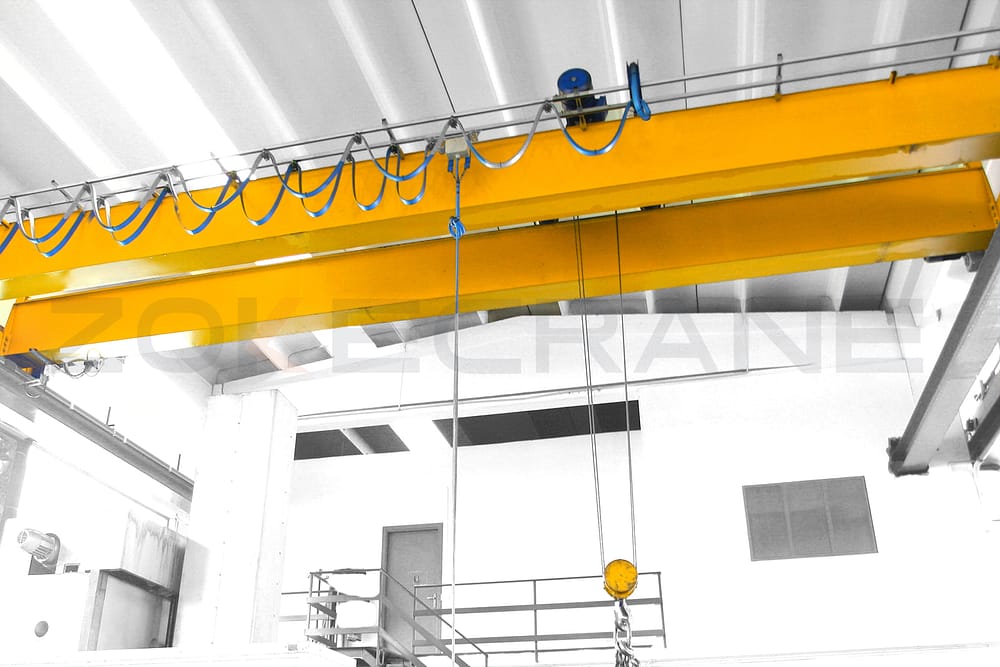 Double Girder Warehouse Overhead Cranes
Double girder warehouse overhead crane is composed of main beam, cross traveling mechanism, long traveling mechanism, and electrical equipment. According to the frequency of use, it is divided into three working levels: A5, A6, A7, A8. It is widely used in steel factory, construction industrial, warehouse, freight yard, cement factory and other heavy duty works.
It is rely on the bridge frame along the workshop orbital direction moving longitudinal, the trolley along the main beam direction moving transverse and the hook lifting movement to work. As it max lifting weight up to 350, so it realized most of client needs.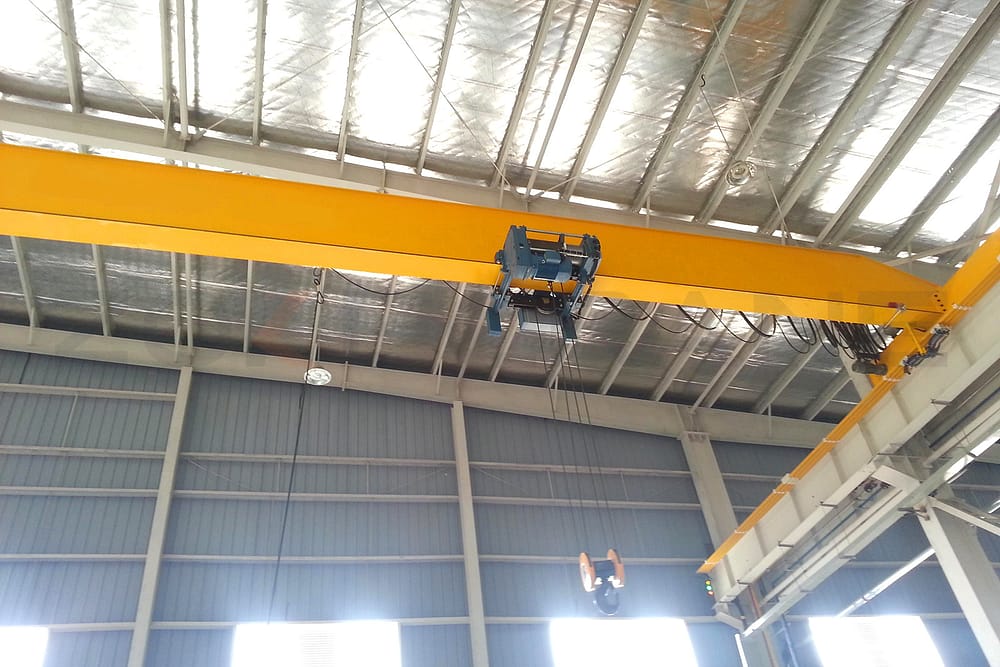 FEM Standard Warehouse Overhead Cranes
European Model warehouse overhead crane is designed and manufactured according to FEM standard. It's is well knowned for its small dimension, light dead weight.
Compared with traditional cranes, our European type overhead crane's limiting distance is minimum from hook to wall, and headroom is the lowest, which makes cranes work closer to the front, and lifting height is higher that increases effective working space of workplace.
New workshops can be designed smaller and have more functions because its dead weight is light, and the wheel pressure is small.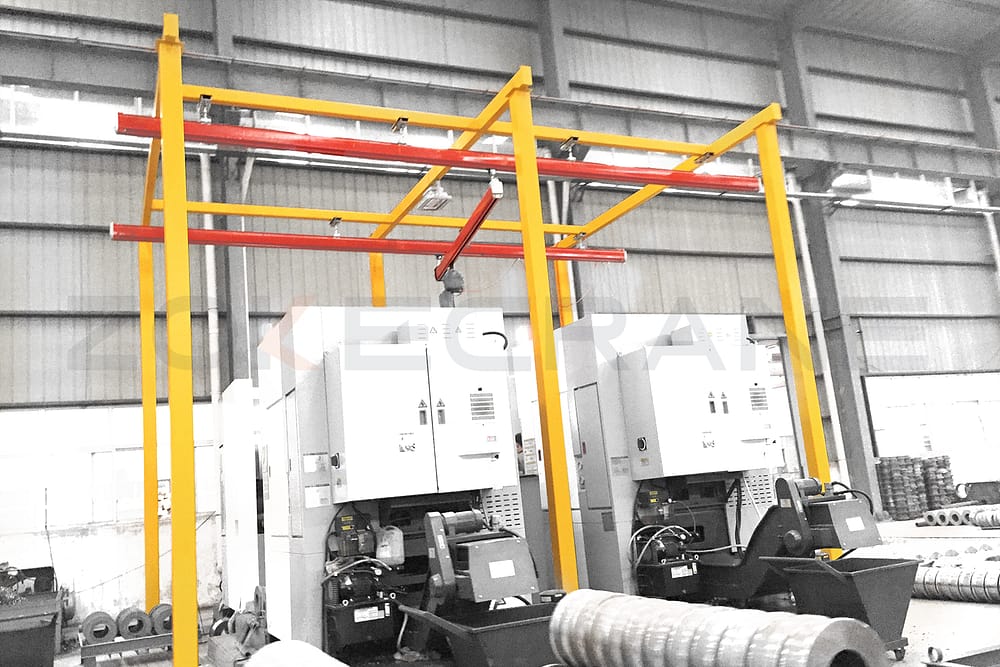 KBK single and double beam warehouse suspension crane with hoist, as the trolley of this type is much smaller than other double girder overhead cranes, so it can be used when the distance from rail to roof is limited. With the advantages of compact exterior dimension, low construction headroom, light dead weight, light wheel load advantages., it is applied in mechanical processing workshop, metallurgical factory and subsidiary workshop, warehouse, material yard, power plant for transferring, assembly, inspection maintenance and load unload procedures. It can also replace common double girder overhead crane, used in light textile industry and food industry manufacturing workshop.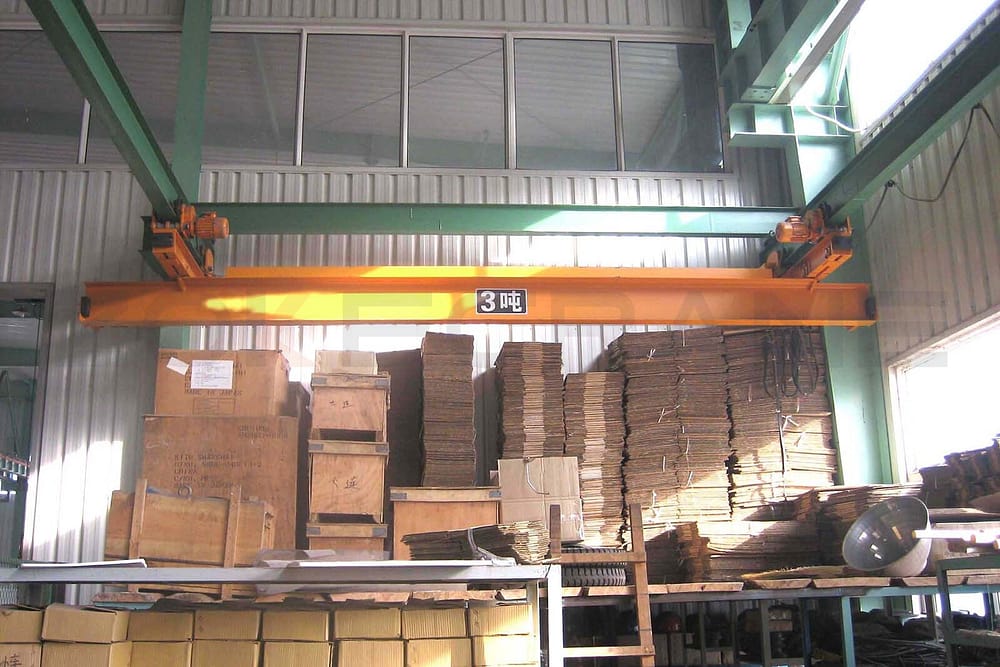 Underhung Warehouse Overhead Cranes
Underhung warehouse overhead crane is a light duty crane. It can be suspension on the girder of steel structure.
Relatively, they are designed for light loads (up to 10000kg). Which used in parts assembly, manufacturing and processing industry, pallet shipping, injection molding, warehousing loading and unloading, equipment maintenance, etc.
Case Project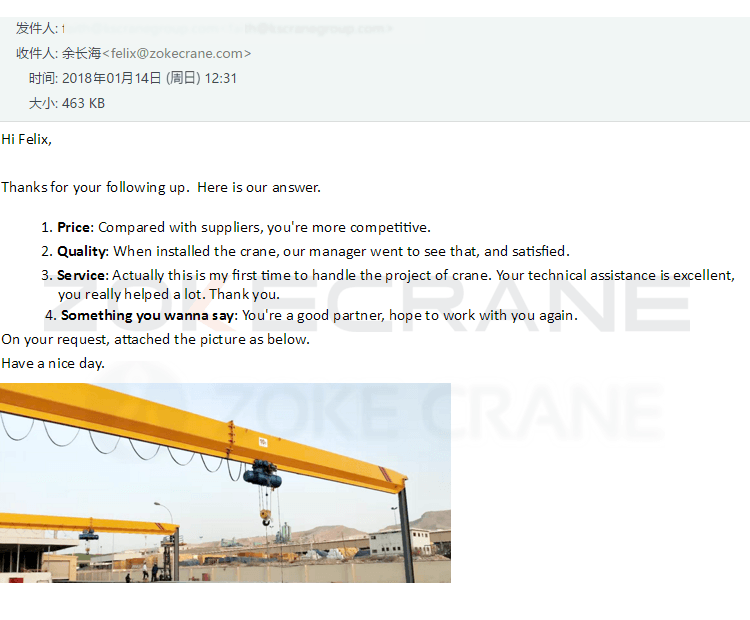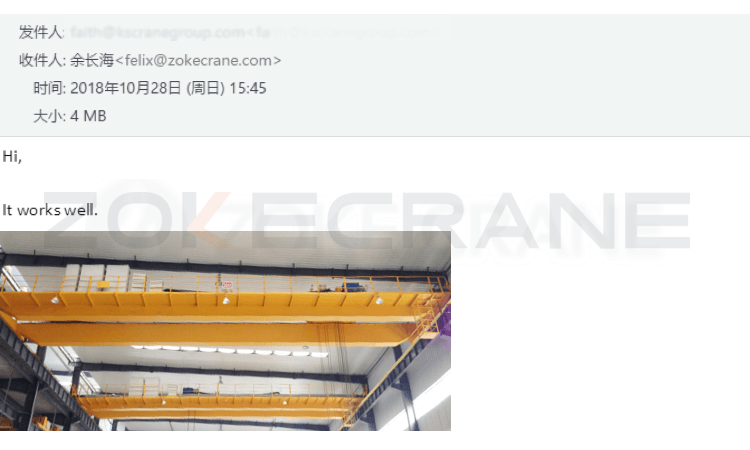 Warehouse gantry crane
In some cases, gantry crane for warehouse is more cost-effective than an overhead crane, because the gantry crane equipment eliminates the needs for support columns, which results in great reduction in material costs. Contact us for the most cost-effective material handling solution!
Warehouse gantry crane can be an ideal substitute to overhead crane for that it is capable of running on the ground instead of traveling on elevated runways. Therefore, the gantry crane for warehouse does not require any construction of supporting columns or overhead runways. The warehouse gantry cranes are with solid construction and outstanding performance so that they can increase your production enormously. We supply several main models of overhead gantry crane to serve your varied lifting applications.
Single Girder Warehouse Gantry Cranes
Electric single girder warehouse gantry crane is a common lifting equipment with tonnage of 0.5~20t. It is widely used in factory, mine, port, warehouse, multi-wind areas and other material handling places to improve the efficiency of labor and improve the necessary machinery working conditions. This kind of crane is composed of main beam, support legs, crane traveling system, electric hoist and control panel. The frame adopts a box-type welding mechanism. The Crane traveling mechanism adopts a separate driver. All mechanisms are operated in the driver cabin. Power is supplied by cable or slide wire.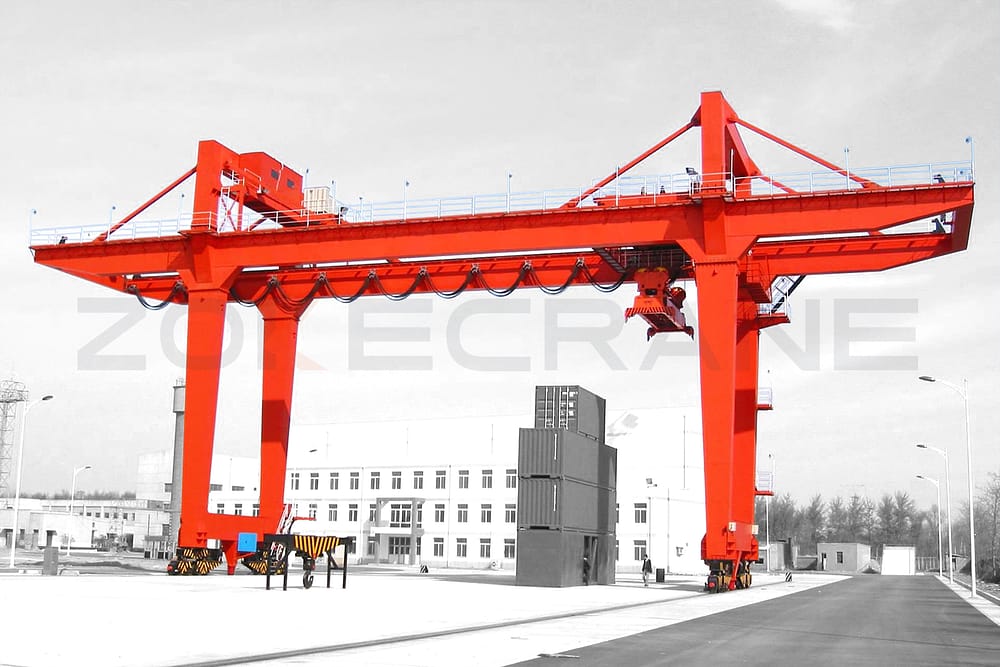 Double Girder Warehouse Gantry Cranes
Electric double girder warehouse gantry crane is a common lifting equipment with tonnage of 0.5~500t. It is widely used in factory, mine, port, warehouse, and other material handling places to improve the efficiency of labor and improve the necessary machinery working conditions.
This kind of crane is composed of bridge beam, support legs, crane travelling system, winch trolley, electrical panel and cabin control. The frame adopts box-type welding mechanism. Crane travellilng mechanism adopts separate driver. All mechanisms are operated in the driver cabin. Power is supplied by cable or slide wire. there are different capacity double beams gantry crane for your choice according to your different use.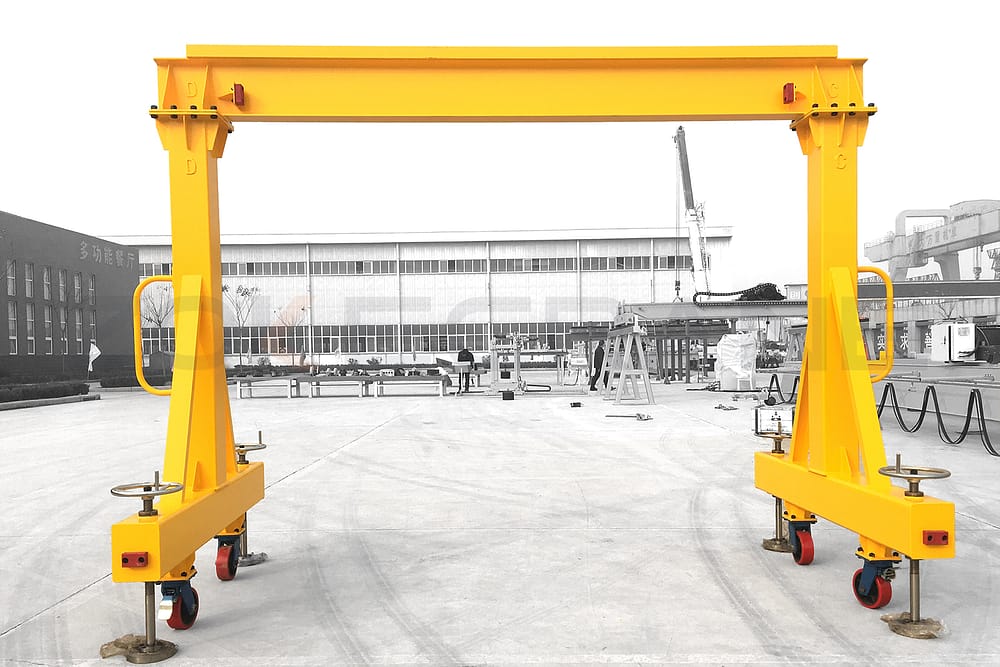 Portable Warehouse Gantry Cranes
Portable warehouse gantry crane have two structural forms, one is height adjustable type and another one is fixed height type(standard).
Portable mobile gantry crane is usually used in assembly workshop,machining workshop, assembly mold,research laboratory,maintenance workshop,small freight station, warehouse, repair shops etc. Especially suitable for the environment which is limited by the working area clearance.
The small electric gantry crane can move easily, disassemble and install quickly, cover little area. The structure design reasonably, can withstand 500 ~ 10000 kg weight, span up to 10 meters.
Especially apply to yard and workshop equipment installation, transportation.
Case Project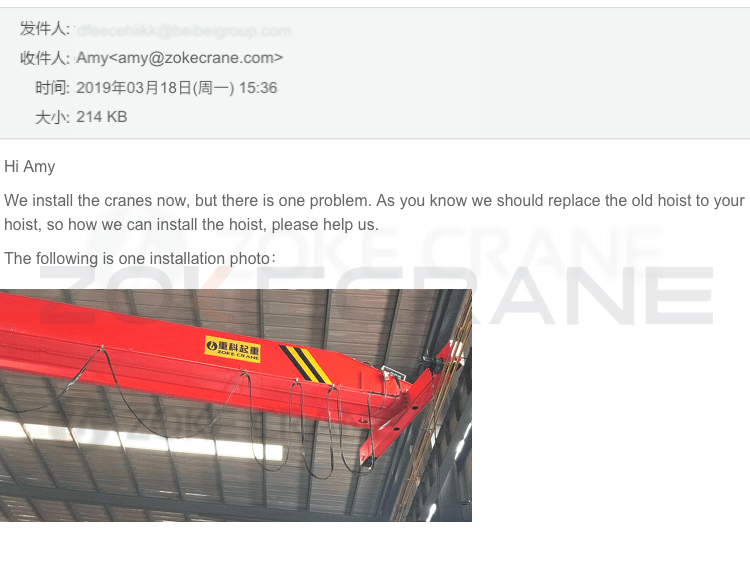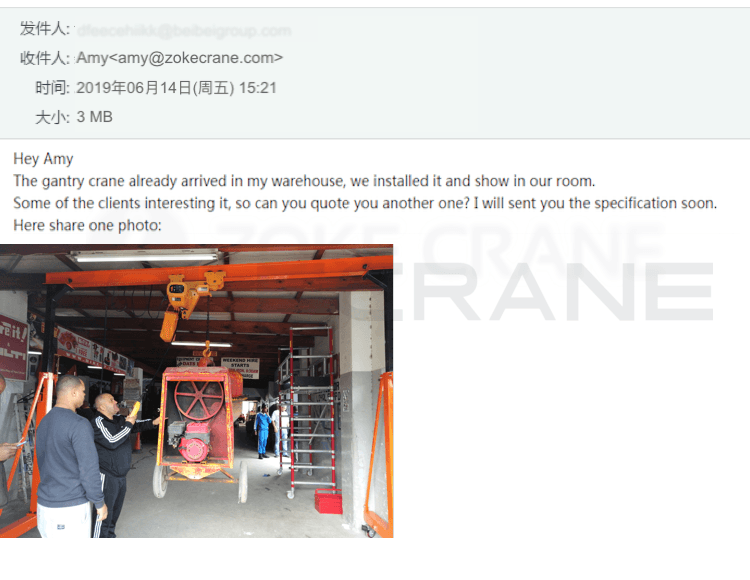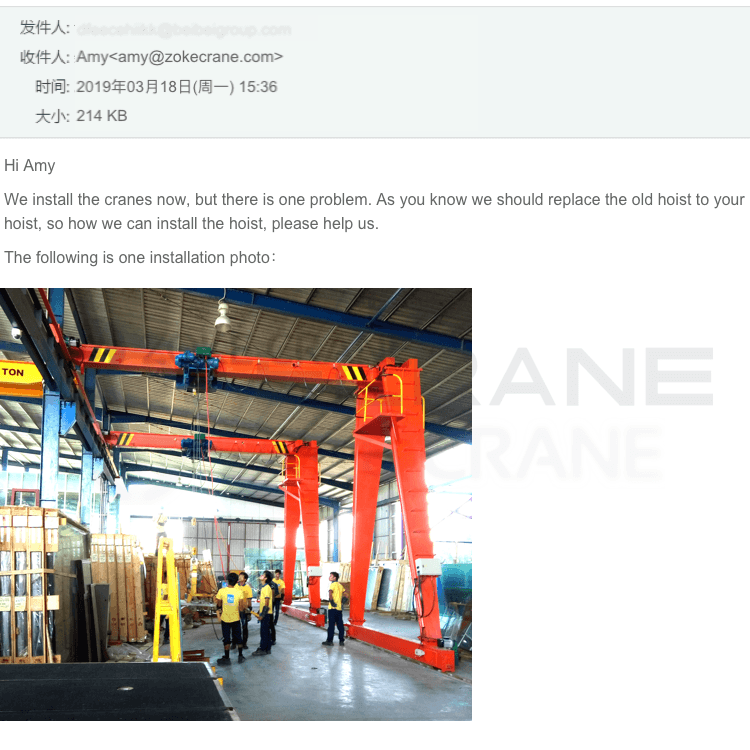 Warehouse hoist
Warehouse hoists are lifting and pulling devices that use some form of line to move or lift a load. A load is attached to a hoist by means of a lifting hook. Industrial hoists are primarily used for vertical lifting.
The electric warehouse hoist has the characteristics of small size, light weight, simple operation and convenient use. It is used in industrial and mining enterprises, warehouses, docks and other places.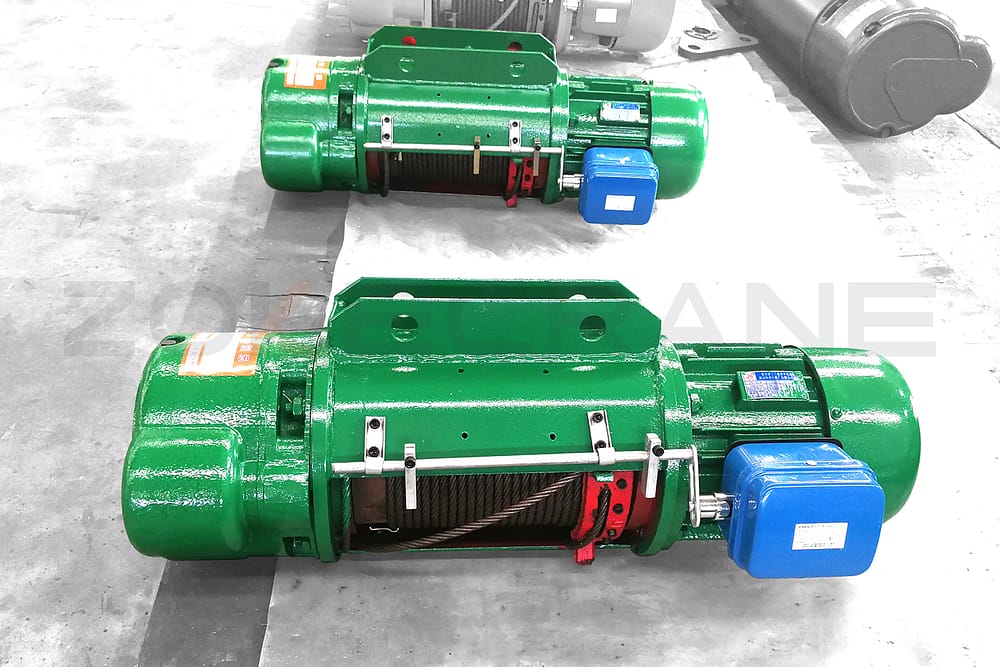 Electric Wire Rope Warehouse Hoists
Electric wire rope warehouse hoists is widely used for lifting heavy objects in railways, docks, industrial and mining enterprises, warehouses and other places. The design concept of this model electric hoist: light weight, strong stability, high safety factor, long mechanical life and easy maintenance. Simple structure, beautiful appearance and balanced size design. The duty group is generally A3.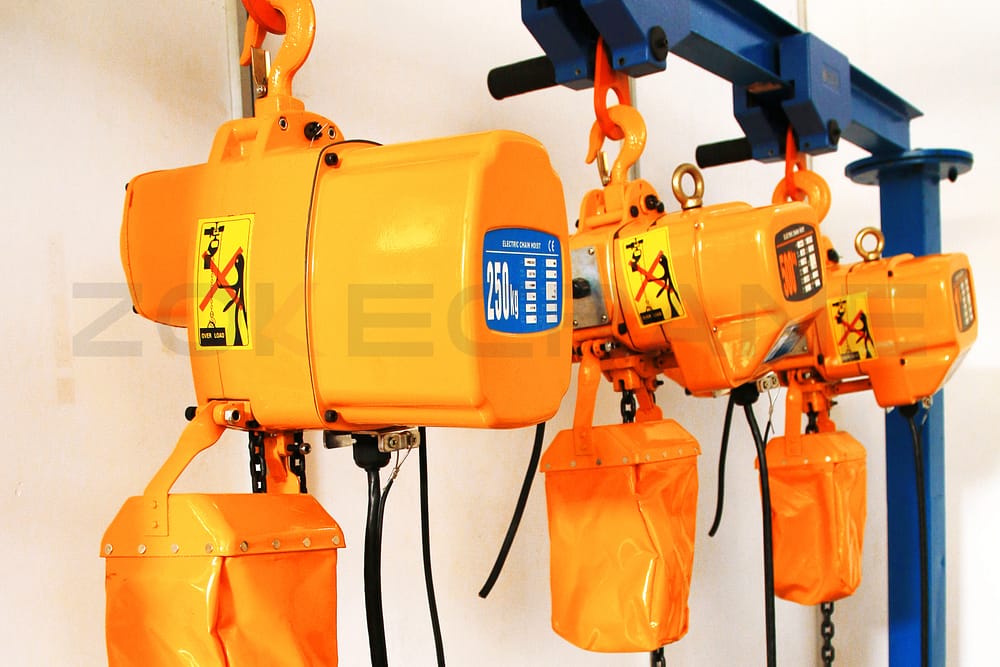 Chain warehouse hoist is a kind of light and small lifting equipment. The electric chain warehouse hoist is widely used, mainly in major plants, warehouses, wind power generation, logistics, docks, construction and other industries, for lifting or loading and unloading goods, but also to lift heavy objects to facilitate work or repair large machines. Electric chain hoist by the operator with a button on the ground to follow the manipulation, can also be manipulated in the control room or use wired (wireless) remote control. The electric chain hoist can be used both fixed suspension, and electric monorail trolley and hand-push / hand-pull monorail trolley walking use.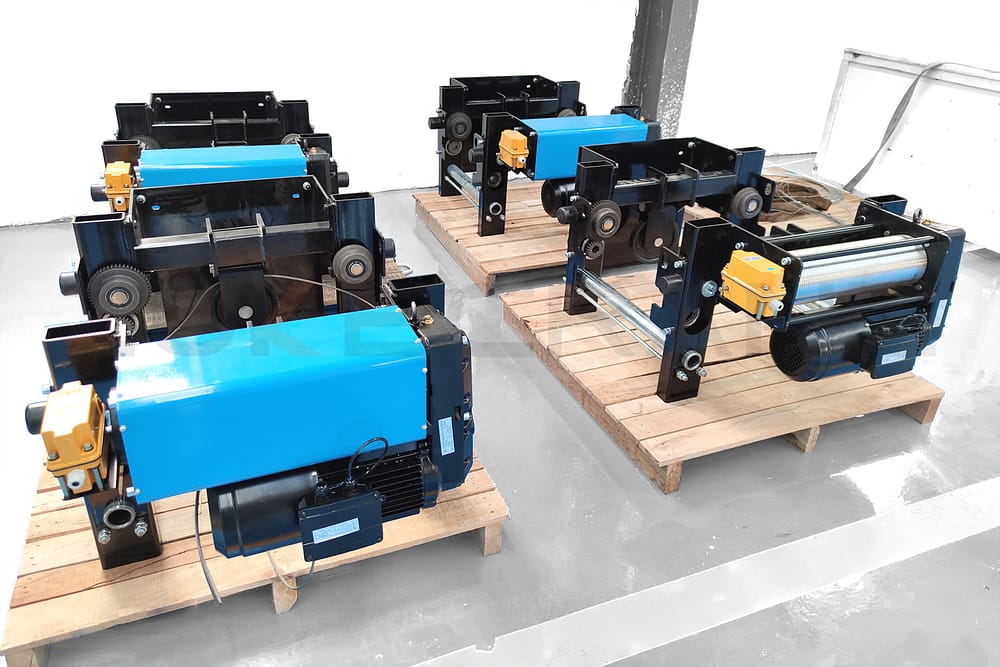 FEM standard warehouse hoists employs motor of hoisting mechanism and reducer imported from Germany. The integrated and compact design of hoisting motor, reducer, reel and limit switch saves space for the user. Modular design increases the reliability of mechanism meanwhile reduces the time and cost for maintaining.
Products FAQS
1.I want to know the price, what parameters are requested?
Capacity:
Crane arm length:
Lift height: hook travel distance
Quantity:
What material will the crane lift?
For other special request, please inform us.
2. What's the lead time for overhead crane?
Generally 25-30 days. If your order is urgent, that can be shorten accordingly.
3.What's the warranty time?
12Months
4. You' re crane manufacturer?
Yes, we' re the manufacturer, founded in 2005 year.
5. Where is your factory? May I visit your factory?
Changnao industrial park, Xinxiang city, Henan Province. We can pick up you at the train station or airport, and book hotel for you inadvance, if you visist our factory.
If you don't know how to choose a warehouse crane, please contact us. Our overhead warehouse crane engineers will respond within 24 hours. Get your custom designed overhead warehouse crane.