1~20 Ton Electric Single Gieder Overhead Crane
Electric single girder bridge crane is widely used in factories, warehouses, material yards and other different occasions to lift goods, prohibit the use in flammable, explosive corrosive media environment.
The electric single girder bridge crane is equipped with two operation forms: ground and manipulation room. There are two types of manipulator room, open and closed, which can be divided into two forms of left or right side installation according to the actual situation, and two types of entry direction, side and end, to meet the user's choice under various different needs.
Single Girder Bridge Crane Design Drawing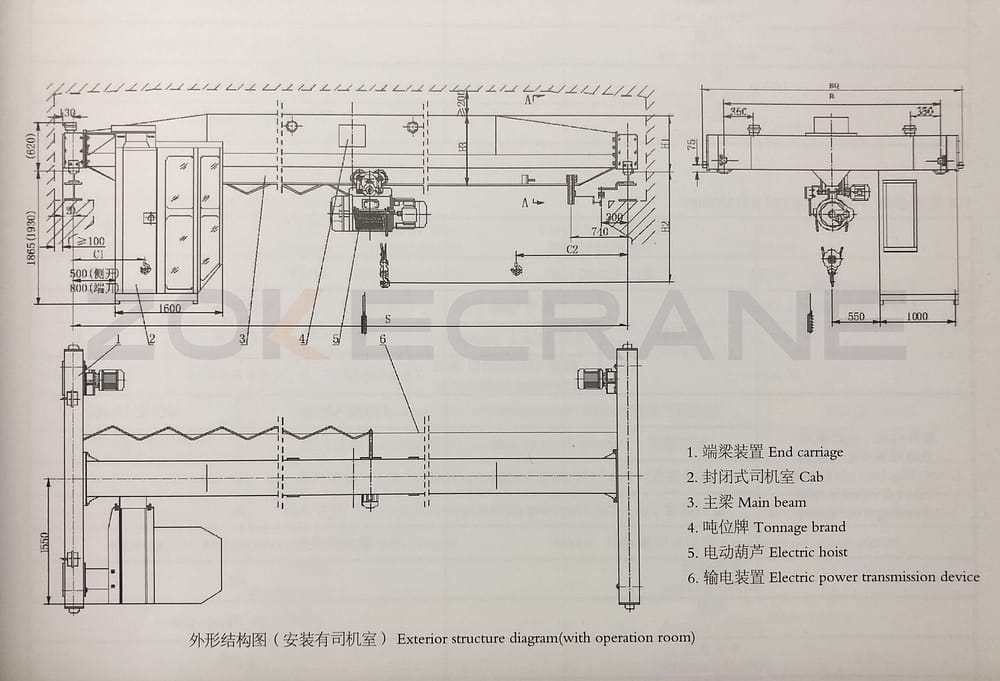 1-5T EOT Crane Parameter Specification
Crane travelling mechanism Working speed(m/min) 20
Ground 30
Ground
Speed ratio 58.78 39.38
Motor Type YSE802-4 ZDR100L-4
Power(Kw) 2×0.8/4×0.8 2×1.5
Rotational speed(n/min) 1380
Lifting mechanism
(electric hoist)&electric hoist travelling mechanism Model ofelectric hoist CD1 MD1
Lifting speed(m/min) 8 8/0.8
Hoisting height(m) 6、9、12、18、24、30
Traveling speed(m/min) 20
Motor Cone squirrel-cage model
Working class A3
Electric current 380V 50Hz three-phase
Wheel diameter Φ270
Width of track 37-70mm
10T EOT Crane Parameter Specification
Crane travelling mechanism Working speed(m/min) 20
Ground 30
Ground
Speed ratio 58.78 39.38
Motor Type YSE90L-4 YSE802-4 ZDR100L-4
Power(Kw) 2×1.5 4×0.8 2×1.5
Rotational speed(n/min) 7.5≤S≤22.5 22.5≤S≤31.5 7.5≤S≤31.5
Lifting mechanism
(electric hoist)&electric hoist travelling mechanism Model ofelectric hoist CD1 MD1
Lifting speed(m/min) 7 7/0.7
Hoisting height(m) 9、12、18、24、30
Traveling speed(m/min) 20
Motor Cone squirrel-cage model
Working class A3
Electric current 380V 50Hz three-phase
Wheel diameter Φ270
Width of track 37-70mm
16T EOT Crane Parameter Specification
Crane travelling mechanism Working speed(m/min) 20
Ground
Speed ratio 58.78
Motor Type YSE90L-4 YSE802-4 YSE90L-4
Power(Kw) 2×1.5 4×0.8 2×1.5
Rotational speed(n/min) 7.5≤S≤14 14≤S≤19.5 19.5≤S≤31.5
Lifting mechanism
(electric hoist)&electric hoist travelling mechanism Model ofelectric hoist CD1 MD1
Lifting speed(m/min) 3.5 3.5/0.35
Hoisting height(m) 9、12、18、24、30
Traveling speed(m/min) 20
Motor Cone squirrel-cage model
Working class A3
Electric current 380V 50Hz three-phase
Wheel diameter Φ270
Width of track 51-70mm
20T EOT Crane Parameter Specification
Crane travelling mechanism Working speed(m/min) 20
Ground
Speed ratio 58.78
Motor Type YSE90L-4
Power(Kw) 4×1.5
Rotational speed(n/min) 7.5≤S≤31.5
Lifting mechanism
(electric hoist)&electric hoist travelling mechanism Model ofelectric hoist CD1 MD1
Lifting speed(m/min) 3.5 3.5/0.35
Hoisting height(m) 9、12、18、24、30
Traveling speed(m/min) 20
Motor Cone squirrel-cage model
Working class A3
Electric current 380V 50Hz three-phase
Wheel diameter Φ270 Φ370
Width of track 51-70mm