Gantry cranes, also known as portal cranes or overhead gantry cranes. It is an important piece of equipment used for material handling. Gantry cranes have a range of features that make them versatile in a variety of applications. This article will introduce in detail the various features of portal cranes in order to better understand their functions and advantages.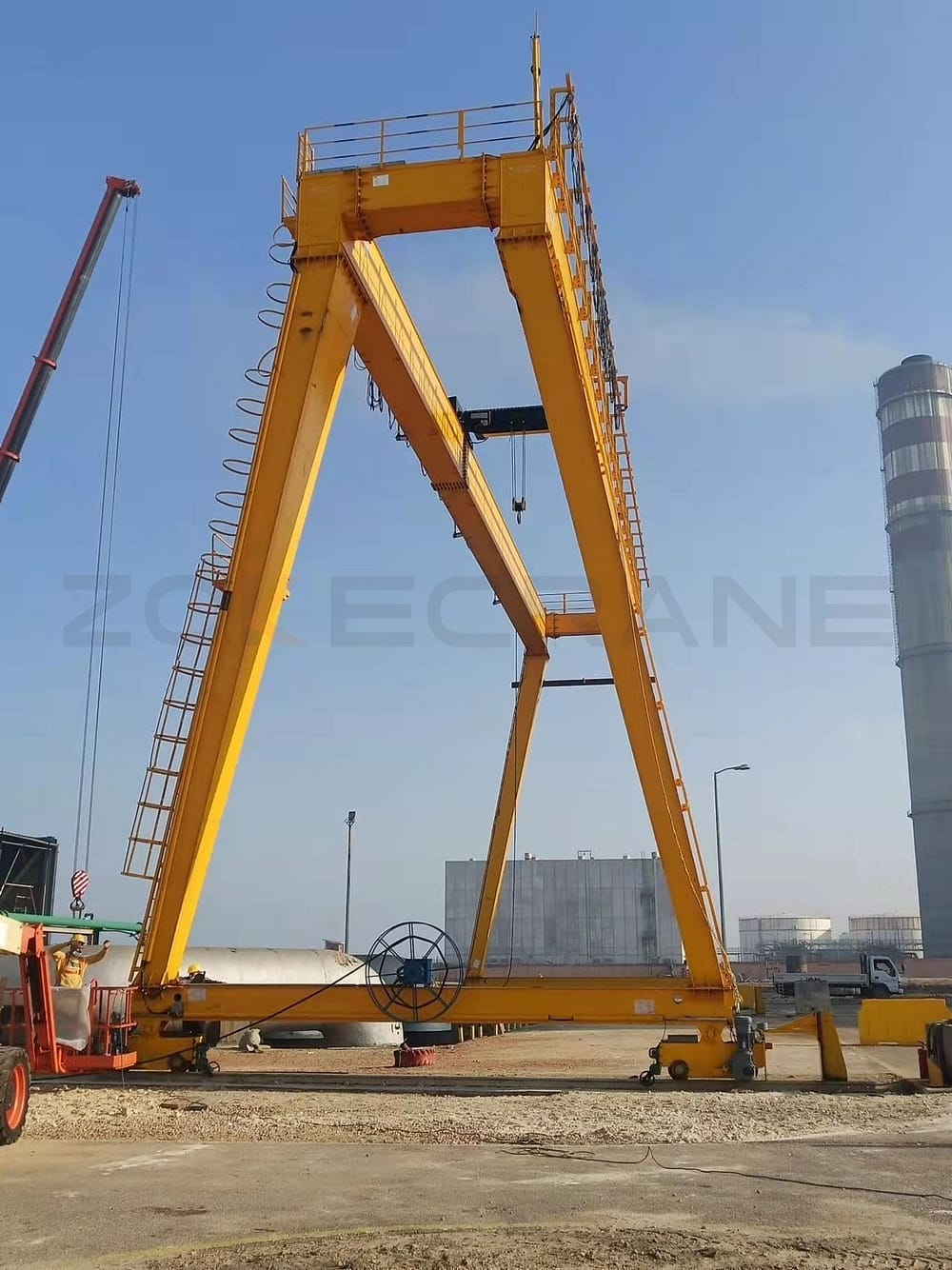 Structural stability
Portal cranes are designed with a sturdy structure, usually with two columns supporting the crossbeams. This structure allows the crane to have excellent stability, able to withstand significant loads and ensure safety and reliability during lifting operations.
Large load capacity
Gantry cranes have excellent load carrying capacity and are capable of handling a variety of heavy loads. Its structural design and the use of engineering-grade materials enable it to meet the major challenges and meet the needs of large-scale material handling.
Large working range
Gantry cranes have a wide working range that can cover large lateral and vertical distances. This allows the crane to handle materials in a wide range of sites, meeting the needs of different work environments.
Precise positioning capability
Gantry cranes are equipped with precise positioning systems for precise control and positioning of materials. Whether vertical lifting or horizontal movement, the crane can achieve accurate position positioning through precise operation, improving efficiency and safety.
Customizability
Gantry cranes are highly customizable and can be designed and manufactured according to specific needs. Depending on the size of the work site, load requirements and specific application needs, various custom configurations can be made to meet different industry and operational requirements.
Operational Flexibility
The operational flexibility of gantry cranes allows operators to easily control the movement of the crane. Equipped with an advanced control system and user-friendly operator interface, operators can accurately and safely control lifting, lowering, traveling crane movement and material location to improve operational efficiency.
Safety features
Gantry cranes are equipped with a variety of safety features, such as overload protection devices, travel limit switches, emergency stop buttons and anti-collision systems. These safety features ensure the safety of the crane during operation, protecting the operator, the equipment and the surrounding environment from potential risks. Regular maintenance and inspection are also important measures to ensure the safety performance of the crane and should be carried out regularly to maintain the proper operation and safety of the crane.
Environmental adaptability
Gantry cranes are highly adaptable to the environment. Whether indoor or outdoor, whether dry factory workshop or wet port terminal, portal cranes are able to adapt to a variety of working environments. Its structural design and the choice of weather-resistant materials enable it to withstand harsh weather conditions and corrosion, ensuring long-term reliable operation.
Ease of maintenance
Gantry cranes are typically simple in design and easy to maintain. Key components and systems are easily serviced and replaced, reducing maintenance time and costs. In addition, the availability of regular maintenance programs and service support ensures good operating conditions and a long service life for the crane.
Mobility (some types)
Certain gantry cranes are mobile, allowing for flexibility in responding to different workplaces and tasks. These cranes can be equipped with wheel and axle or crawler systems to facilitate quick movement to the desired location, reducing relocation and installation time and increasing efficiency.
Multiple working conditions
Gantry cranes are suitable for a wide range of working conditions, including heavy industry, manufacturing, aerospace, ports and logistics. Whether moving heavy machinery parts, loading and unloading cargo, stacking materials or maintenance equipment, portal cranes are able to adapt to different work requirements.
Gantry cranes have a series of features, including structural stability, large load capacity, large working range, precise positioning capabilities, customizability, operational flexibility, safety performance, environmental adaptability, ease of maintenance, mobility and multiple working conditions applicable. These features make gantry cranes ideal for material handling, improving efficiency, ensuring operational safety and meeting the needs of different industries and applications.