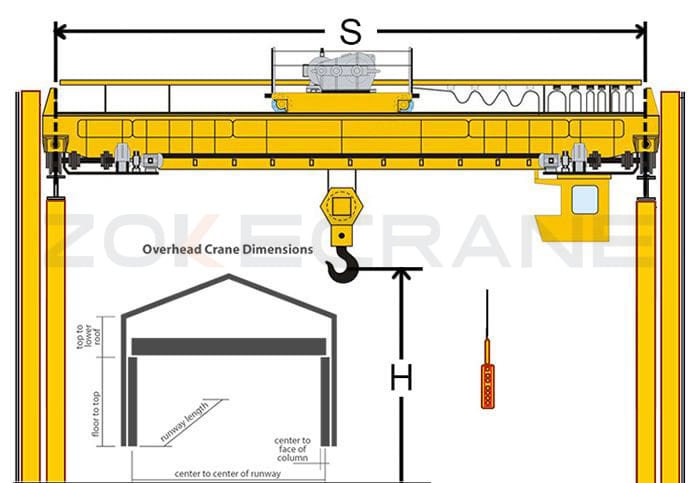 Several factors contribute to making a crane strong and capable of lifting heavy loads. Here are some key elements that contribute to the strength and lifting capacity of cranes:
Structural Design: Cranes are engineered with strong and robust structural components, such as beams, booms, and supports, that are designed to withstand the loads they are intended to lift. The materials used, such as high-strength steel, are carefully selected to provide the necessary strength and durability.

Load Distribution: Cranes are designed to distribute the weight of the load across multiple points to ensure stability and prevent structural failure. This is achieved through the use of counterweights, outriggers, and stabilizers, which help balance the load and prevent excessive stress on individual components.

Lifting Mechanism: The lifting mechanism of a crane, whether it's a hydraulic system, wire rope, or chain hoists, is designed to provide significant lifting power. The mechanisms are engineered to generate and transmit force efficiently, allowing for the lifting of heavy loads.

Power and Control Systems: Cranes are equipped with powerful engines or electric motors that provide the necessary power to operate the lifting mechanisms and other functions. These power systems are carefully designed to deliver high torque and force, enabling the crane to lift and maneuver heavy loads smoothly and safely. Additionally, advanced control systems allow operators to precisely control the crane's movements, ensuring safe and efficient lifting operations.

Safety Factors and Standards: Cranes are designed with safety factors and adhere to industry standards and regulations to ensure their strength and reliability. Engineers consider various factors such as load capacity, wind resistance, fatigue life, and safety margins during the design process to ensure that the crane can safely handle the intended loads.

Regular Maintenance and Inspections: Regular maintenance and inspections are crucial to maintaining the strength and reliability of a crane. This includes routine checks of structural components, lifting mechanisms, and control systems to identify and address any signs of wear, damage, or fatigue that could compromise the crane's strength and safety.
It's important to note that while cranes are designed to be strong and capable of lifting heavy loads, they have specified load capacities. It is essential to follow the manufacturer's guidelines and safety instructions to prevent overloading, which can lead to accidents or damage to the crane.