Crane rails are a critical component of a crane system, and their size and quality directly affect the stability, accuracy and safety of the crane. Understanding the dimensions of standard crane rails is crucial for engineers and users to choose the right rail. The following section will introduce the standard crane rail size in detail.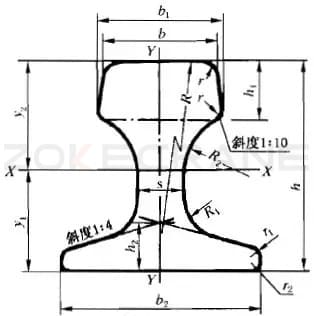 Common crane track size standards
The size of the crane track is usually marked by the weight per unit length, and the common units of measurement are kilograms per meter (kg/m) and pounds per yard (lbs/yd). Here are some common crane rail size standards:
1.Track size QU80:
Weight per unit length: approximately 39.3 kg/m (83.5 lbs/yd)
Track height: 120 mm
Bottom width: 130 mm
Top width: 80 mm
Suitable for light duty applications and smaller cranes.
2.Track size QU100:
Weight per unit length: approx. 50.9 kg/m (108 lbs/yd)
Track height: 150 mm
Bottom width: 150 mm
Top width: 100 mm
Suitable for medium-sized applications and medium-sized cranes.
3.Track size QU120:
Weight per unit length: approx. 61.6 kg/m (131 lbs/yd)
Track height: 170 mm
Bottom width: 170 mm
Top width: 120 mm
For heavy-duty applications and larger cranes.
It should be noted that these dimensions are intended as examples only, and actual standard crane rail dimensions may vary depending on the standards and requirements of different regions or countries. When selecting a crane rail, you should refer to applicable standards and guidelines and consider factors such as load capacity, crane type and operating conditions to ensure that the proper rail size is selected.
The applicable range of crane rail size
Different sizes of crane tracks are suitable for different engineering needs and application scenarios. Smaller track sizes are suitable for lighter cranes and light load applications, while larger track sizes are suitable for heavy cranes and large load applications. Engineers need to consider the following factors when selecting a crane track size:
The crane's working load and load range.
The crane's range of movement within the work area.
Crane operating speed and accuracy requirements.
Crane rail material and strength requirements.
Provisions of relevant standards and regulations.
Standard crane rail dimensions are key to selecting the proper rail to ensure stable and safe crane operation. Common crane rail size standards are measured by weight per unit length, such as kg/m or lbs/yd. Different sizes of rail are suitable for different types and loads of cranes. When selecting the crane track size, the crane's working load, working range, running speed, as well as the track material and strength requirements should be taken into account. Accurately choosing the right track size can improve the performance and safety of the crane and ensure the smooth progress of the project.