Jib cranes are important equipment used for material handling and lifting. They are widely used in factories, docks, warehouses and other various places. Below is the price list of jib cranes from Heavy Crane, which can provide you with reference.
Floor Mounted Jib Crane Prices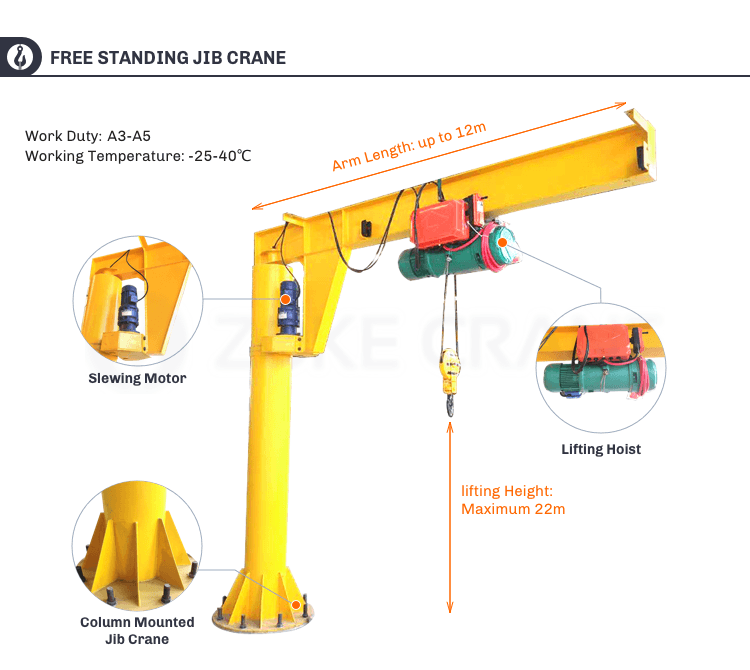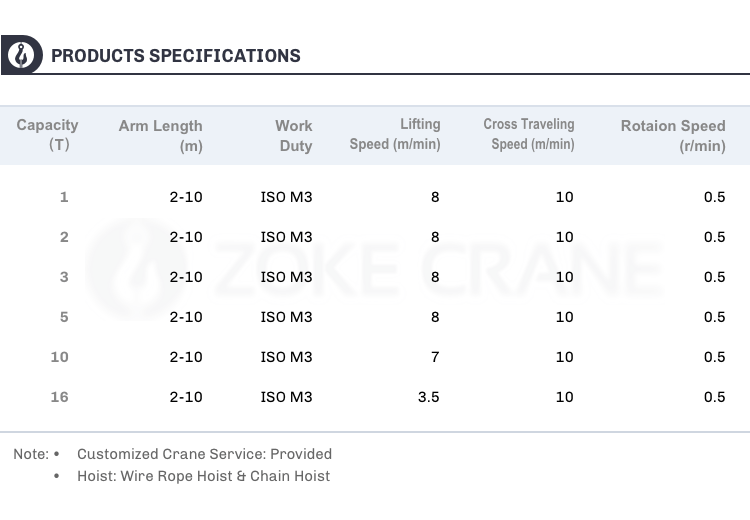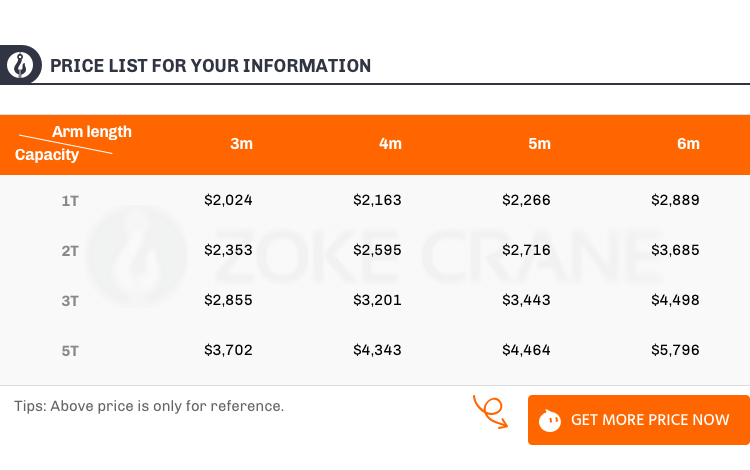 Wall Mounted Jib Crane Prices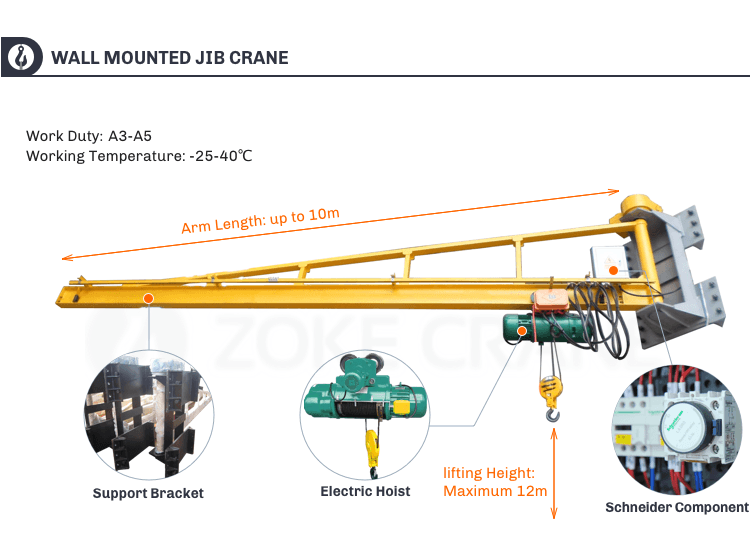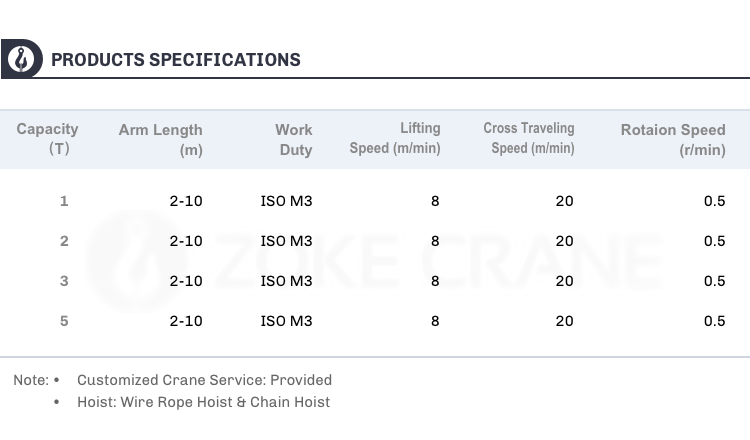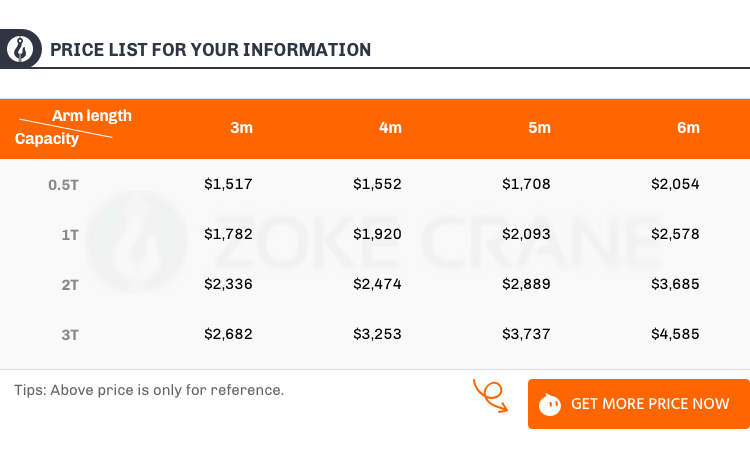 However, the price of jib cranes is not fixed, but is determined by several factors.
Jib crane price composition
The price of a jib crane consists of several major components:
Base price: this is the basic cost of a jib crane and usually includes the structure, materials and manufacturing process.
Rated load capacity: the load carrying capacity of a jib crane is an important factor in the price. Cranes that can carry heavier loads are usually more expensive.
Lifting height: The lifting height of a jib crane will also have an impact on the price. The higher the lifting height, the higher the cost is usually.
Boom Length: The boom length of a jib crane refers to the horizontal reach of its lifting arm. Longer jibs usually require more material and structural support, and therefore will cost more.
Power source: Jib cranes can be driven by electric, hydraulic or pneumatic systems. Different power sources will affect the cost of the equipment.
Accessories and add-ons: extra accessories and add-ons such as cameras, remote controls, safety devices, etc. will also increase the price of a jib crane.
Factors affecting the price of jib cranes
In addition to the above components, there are a number of factors that can affect the price of a jib crane:
Brand and manufacturer: jib cranes from well-known brands and reliable manufacturers usually cost more. This is because these brands usually have better quality and after-sales service.
Technology and innovation: Jib cranes with advanced technology and innovative designs may be more expensive, but they usually offer more efficient and safer operations.
Geographic location: the jib crane market varies from region to region, some regions may be more expensive while others are more affordable.
Economic factors: Economic factors such as market supply and demand, inflation rates, and exchange rates can also have an impact on jib crane prices.
How to get the best value
To get the best value for your jib crane, you can take the following steps:
Research and compare: Investigate jib cranes offered by different brands and manufacturers and compare them. Consider aspects such as equipment quality, performance and price to find the most suitable option.
Specific needs: Determine the crane's parameters such as rated load, lifting height and cantilever length according to actual needs, and avoid unnecessary add-ons that exceed actual needs.
After-sales service: Consider the after-sales service and warranty policy provided by the supplier to ensure long-term maintenance and operation of the equipment.
Budget planning: Set a purchase range based on your budget, but don't just consider the lowest price, but focus on value for money.
Understanding the market: Understand the market for jib cranes in your area, including information on brands, models, price ranges, etc. to make an informed choice.
The price of jib cranes is influenced by a number of factors. Understanding these factors and making an informed buying decision based on actual needs will help get the best value for your jib crane. By comparing options from different brands and suppliers and considering equipment quality, performance, after-sales service, and budgetary constraints, you will be able to find the best jib crane for your needs and budget.