In the safety accidents of electric wire rope hoist every year, there are accidents of the reducer falling. The fall of the reducer has become a very serious safety hazard. In order to prevent the wire rope electric hoist reducer from falling, everyone should pay attention to the following aspects.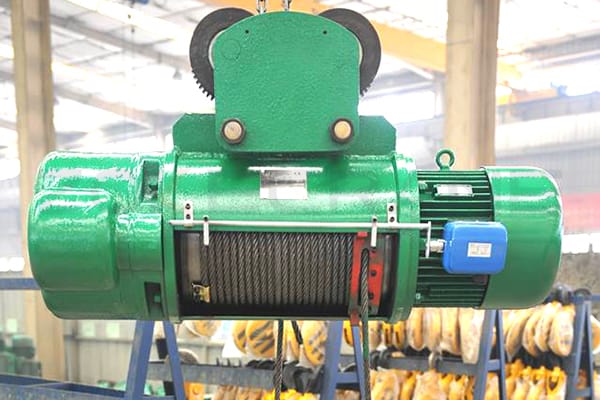 Eliminate the safety hazards of the equipment from the source. In order to prevent the wire rope from leaving the drum and winding into the gap between the drum and the reduction gearbox, a rope stop device can be added at the end of the drum or the difference between the shell and the end of the drum can be reduced. gap. The main reason for the falling accident of the electric hoist gearbox is because of the fracture of the stud bearing platform of the gearbox body. In addition to the squeezing of the steel wire rope drawn into the gap between the reel and the reduction box body, it will cause the stud bearing platform of the reduction box body to break, and the deformation of the shell caused by the lifting hook will also cause the stud bearing platform of the reduction box body to break. Therefore, it should be improved. The tensile strength of the reduction box, such as changing its material to cast steel, increasing the transition fillet, increasing the wall thickness or improving the design, etc.
The rope guide and the lifting height limiter are very important safety protection devices on the electric hoist. In the process of use, it must be ensured that the safety devices are effective. If the safety device is found to be damaged or invalid, the operation should be stopped immediately until the equipment is restored to a safe state.
The user unit shall establish a sound special equipment safety management rules and regulations, and operate in strict accordance with the regulations. Crane operators should hold special equipment operation certificates, crane operators should wear complete labor protection equipment, and carry out daily maintenance and daily inspections on wire rope electric hoists in accordance with regulations.
Henan Zoke Crane Co., Ltd. is a professional crane manufacturer.The company has advanced production equipment and strong technical force.Provide product design, manufacturing, sales, installation, maintenance, technical consultation and services.If you have any questions, you can contact us, 24 hours professional customer service online to answer you.